EY VietNam Graduate Recruitment 2018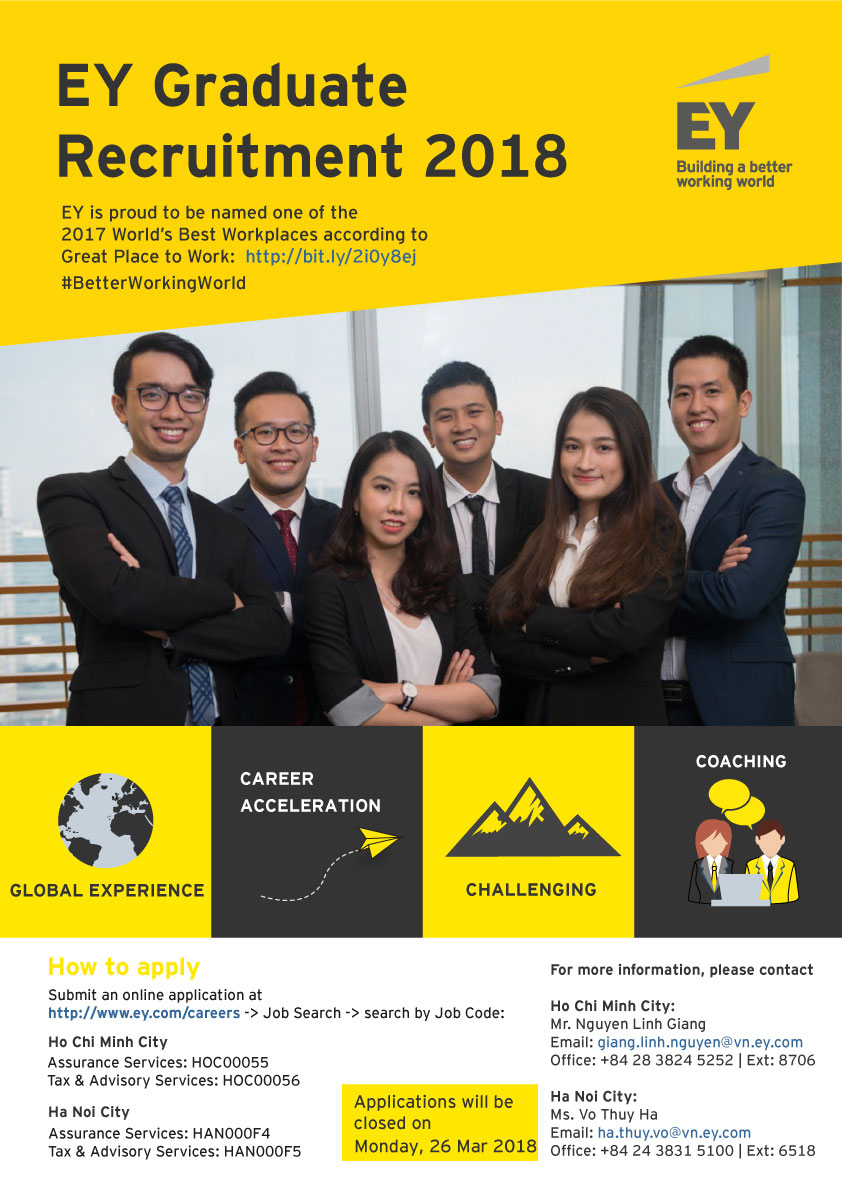 About the opportunity
EY are offering opportunities at both Hanoi and Ho Chi Minh City offices.
You'll experience ongoing professional development through diverse experiences, world-class learning and individually tailored coaching. We'll provide you with real work, real clients and real experiences, as well as training and development to kick-start your graduate opportunities. More importantly, you'll get a sense of our culture and values and start to build the career you'd like to shape. Sound interesting? Well this is just the beginning.
Submit an online application at http://www.ey.com/gl/en/careers –> Students –> Job Search –> Keyword Search by Job Code as below.
Ho Chi Minh Office:
► Assurance position: HOC00055
► Tax Position: HOC00056
Ha Noi Office:
► Assurance position: HAN000F4
► Tax Position: HAN000F5
What working at EY offer
EY offers a competitive remuneration package commensurate with your work experience where you'll be rewarded for your individual and team performance. We are committed to being an inclusive employer and are happy to consider flexible working arrangements, where this may be needed.
Plus, we offer:
► Attractive salary
► Professional, dynamic working environment
► Support, coaching and feedback from some of the most engaging colleagues around
► Opportunities to develop new skills , clear career path and promotion opportunities for high performance candidates
If you can confidently demonstrate that you meet the criteria above. Make your mark. Apply now.
Want to get to know us better?
► Visit: http://www.ey.com/gl/en/careers
► Become a fan on Facebook: https://www.facebook.com/EYCareersVietnam
► Watch us on YouTube: http://www.youtube.com/ernstandyoungglobal