MBA TALENT SCHOLARSHIP 2018
In the era of globalization, continuously acquiring knowledge and enhancing interpersonal skills to adapt with the ever-changing world are tremendously necessary, especially for students.. It is undeniable that academic performance plays an important role in every field of the society. Therefore, University of Economics Ho Chi Minh City (UEH) always try to be the pioneer in educating and cultivating young generation through research activities and academic competition.
Stemming from those expectations, International School of Business - University of Economics Ho Chi Minh City collaborating with Western Sydney University (Australia) - Top 2% worldwide, organize MBA Talent 2018. The main purpose of this competition is to select, develop and provide opportunity for graduates or staffs with under 3-year experience to in a professional international environment. From that, we can provide professional workforce with high academic background and great practical experience for our country
When you register for MBA Talent 2018, candidates will participate three rounds which are completely in English and built platforms similar with other Universities in developed nations.
In the first round, candidates will take a exam in English with multiple choice questions about socio-economic understanding, case studies, IQ, EQ… in 45 minutes.
In the second round, candidates will have the opportunity to show their capability through solving case studies in writing form within an A4 paper. In this ways, judges can evaluate the potential candidates whom they have never met. Last but not least, top 10 excellent candidates will come to the final round and meet the honor representatives from multinational corporations.
After the final round, judges will have an overview of the candidates. When the candidates get through 3 challenging rounds, Champion of this competition will receive a full scholarship (valued up to $14.400) and the First runner-up will receive 50% scholarship for MBA program granted by Western Sydney University.
Applying the aforementioned motif helps the organizing process be simplified, but still maintain the prestige and professionalism. Above all is keeping the essential challenges for candidates to show their ability.
In addition, the Champion and First runner-up of the competition will contribute to nourish the young talents of Vietnam.
For further information or registering for the competition, please access:
mbatalent.edu.vn or Fanpage @MBATalentVN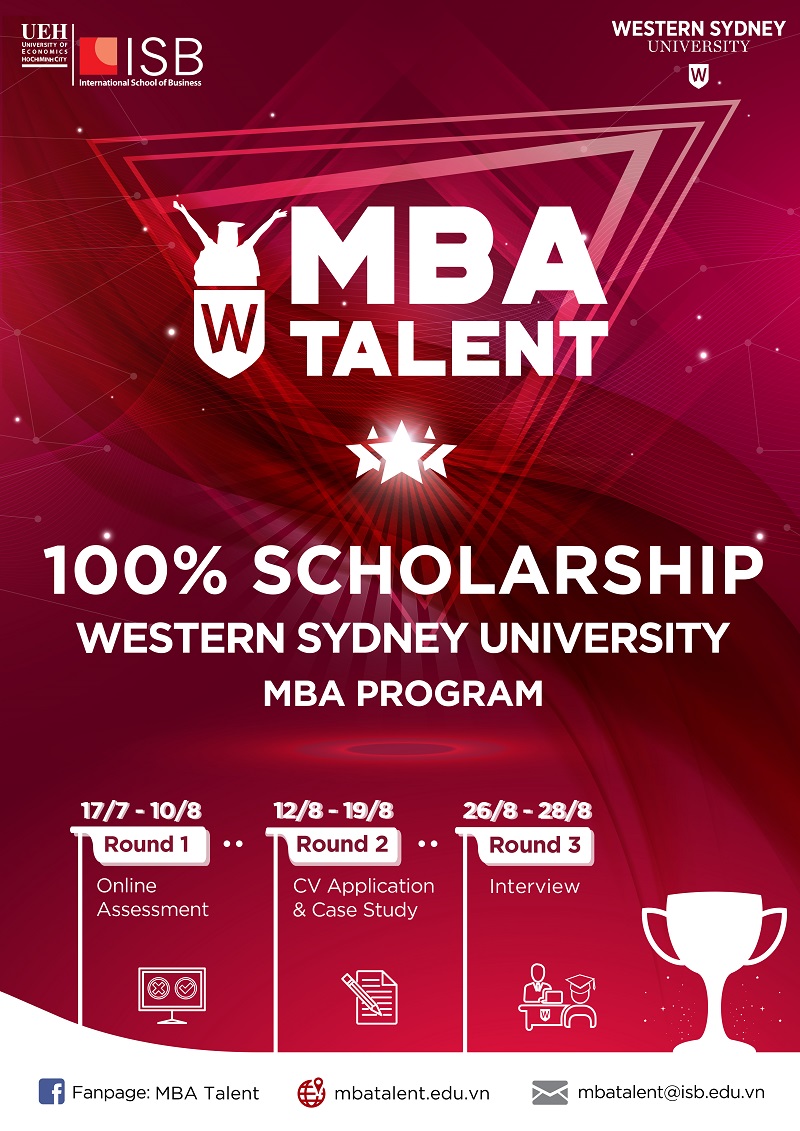 Source: International School of Business, Department of Communications and Public Relations.