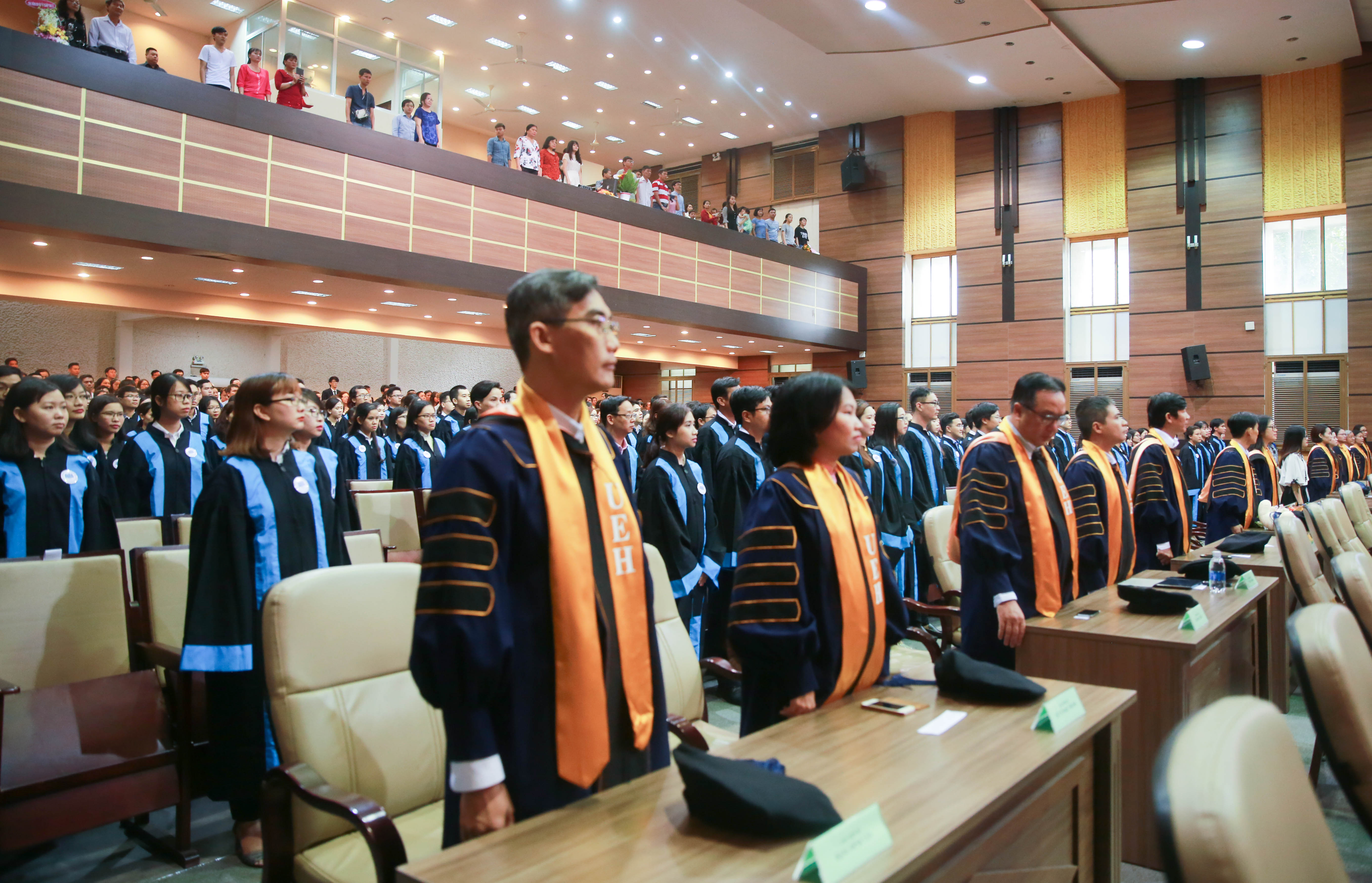 UEH promotes several policies especially for PhD candidates
In order to implement the 6th differentiation strategies of the University of Economics Ho Chi Minh City and make way to the QS Asia University Ranking, our university has developed a handful of special policies to boost the international announcement within the context of global knowledge contribution. Specifically, UEH always pays great attention to the enhancement in quality of PhD candidates, motivates and encourages them in their researches in English, with the participation of international professors in the act of international announcement as well. Recently, on 22nd November 2018, UEH enacted the new Regulations over the working conditions of PhD candidates studying in full-time in UEH with a rich variety of priorities.
UEH encourages PhD candidates in the improvement of thesis quality, international publications, rewarding Ph.D. candidate's supervisors.
In improving thesis quality, UEH will host a competition over the doctorate thesis topics, "Talented PhD by publication", 3 to 5 best topics will be judged and rewarded by the school board.
The university will sponsor all fee and expenditure for English translation according to the international sponsorship regulation should the Vietnamese-based thesis is completed with positive result, great quality over researches.
PhD candidates conducting their thesis in English will be rewarded with scholarships and sponsored financially to edit their English thesis, besides, research students will also be recognized, awarded and introduced during graduation ceremony by UEH President.
In encouraging international publication, UEH sponsors researching students with their thesis announced on international journal ISI, Scopus according to the UEH Regulations in encouraging international publication among lecturers and research students. In more specific terms, the optimum sponsorship could reach 200 million VND per article according to ISI, Scopus and ABDC data.
Our university will sponsor partly the participating fee and traveling expense for research students to join international conferences, articles for the conference must be attached with articles for international publication.
Our university will reward and praise research students with ISI, Scopus international publication at the opening ceremony, graduation day and on the various university media.
Besides, so as to improve quality as well as encourage research supervisors, lecturers with excellent annual results based on 2 criteria: 1) The quantity and quality of international article accomplished by both supervisors and research students; 2) The number of completed thesis before deadline by research students, will be elected, praised and rewarded by UEH.
Assoc.Prof. Nguyen Van Phuc - Deputy under secretary of  Ministry of Education and Training and Prof. Nguyen Đong Phong - President UEH awarding the newly PhD who have quite a few international publications at the PhD graduation ceremony 2018
Our university will also improve the number of invited lecturers, professors in the international cross-border study programs or from academic relationships to join the evaluation board and the supervisions for national research students.
PhD candidate Doan Duc Minh - Vice Officer of Institute of Finance and Administration currently writing his thesis in English (UEH.ISB.PhD) shared "Over 2 years of study and research within the PhD Program in English at UEH, this program helped me in my development of individual research ability. Besides, I have the opportunity to connect with scientific research council around the world, attend international conferences, meet and exchange information with specialists, accredited professors in the same major. This will help me a lot in the formation of ideas for research, for the identification of research topics and the approaches to publish articles on international scientific journals. Moreover, the program also provides me time to invest in the knowledge of theories within the context of administration and start-up - the field that I do advanced research, creating many advantages for me in the consulting and teaching activities. At the same time, my writing skill has also been enhanced tremendously through each consultant from the guiding lecturers, I have done many writings over the research guidance 24 times; I am able to feel the improvement in writing style, the letters and every word I use."
UEH is the first university in Vietnam to launch special policies for international PhD students to study within the ground of UEH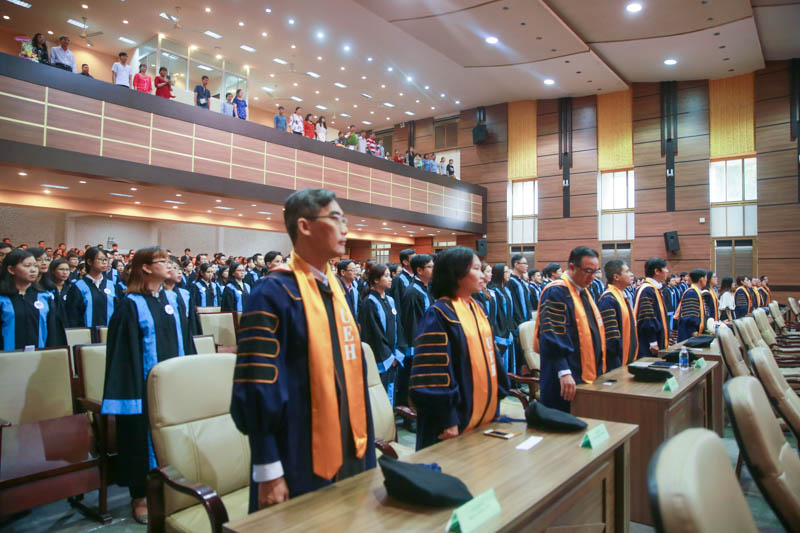 PhD graduating from UEH 
According to that, research students have 07 attractive priorities: 100% sponsorship in annual study fee according to their respective study and research results; support in the workplace, accommodation, financial aid in conducting scientific researches, international publications, and information access as well as the participation in teaching or major-focused activities.
Beside the mentioned priorities, full-time research students also need to arrange their working time up to  40 hours/ week; the scientific researches are announced with the status of UEH members. Before defending their school-level thesis project, full-time research students need to announce at least one article on the international journals of ISI-Scopus and another article in English on Jabes.
These are all the efforts made by the University of Economics Ho Chi Minh City to optimize the priorities for PhD candidates, especially with full-time research students, in order to contribute in the mission and the goal of leading UEH to become the research-oriented university, gradually and successfully conduct the internationalize project so that until the year 2025, English will become the common and popular language employed efficiently in teaching and researching at UEH.
Source: Department of Communications and Public Relations.