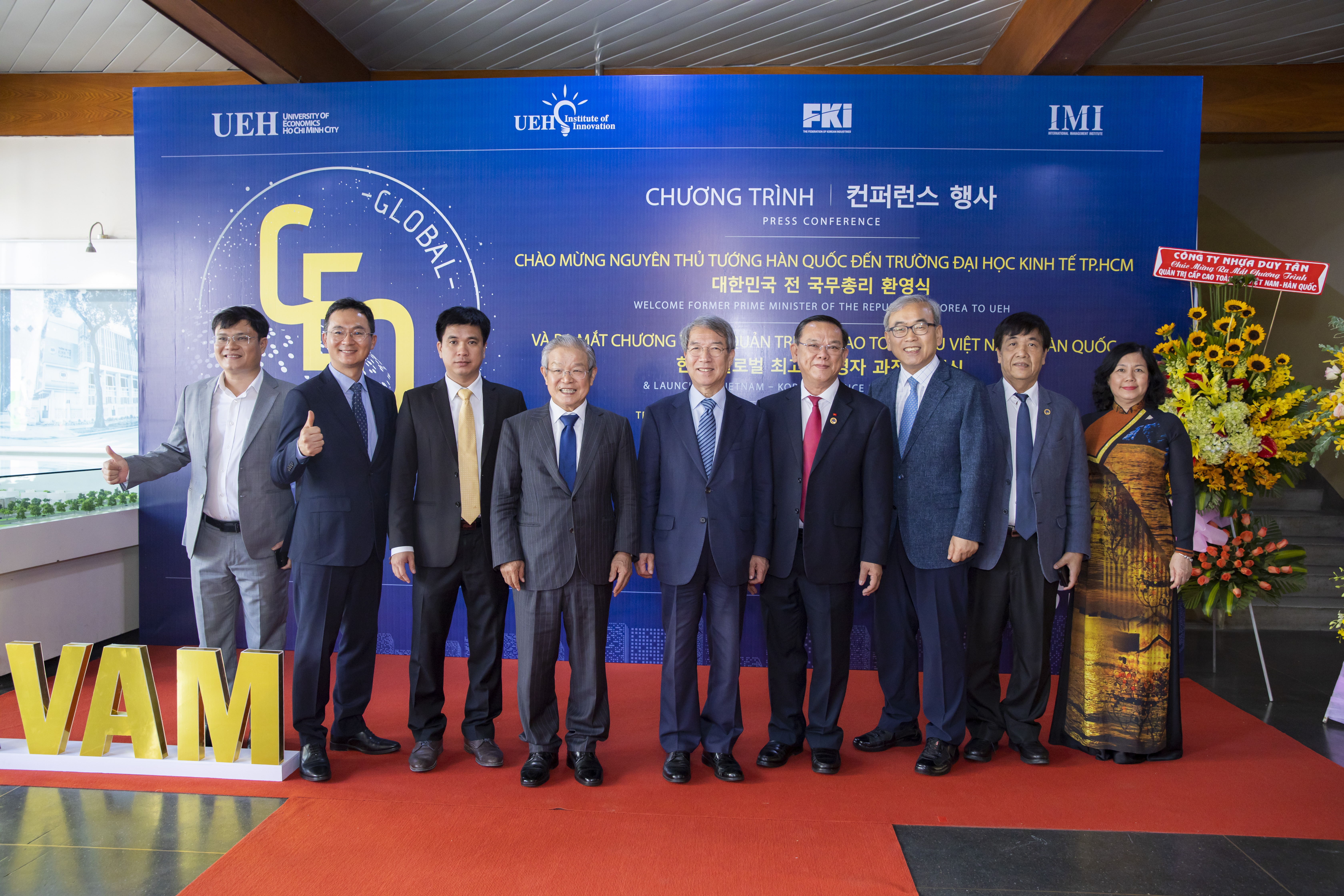 Former Korean Prime Minister highly appreciated the Vietnam-Korea Advance Management Program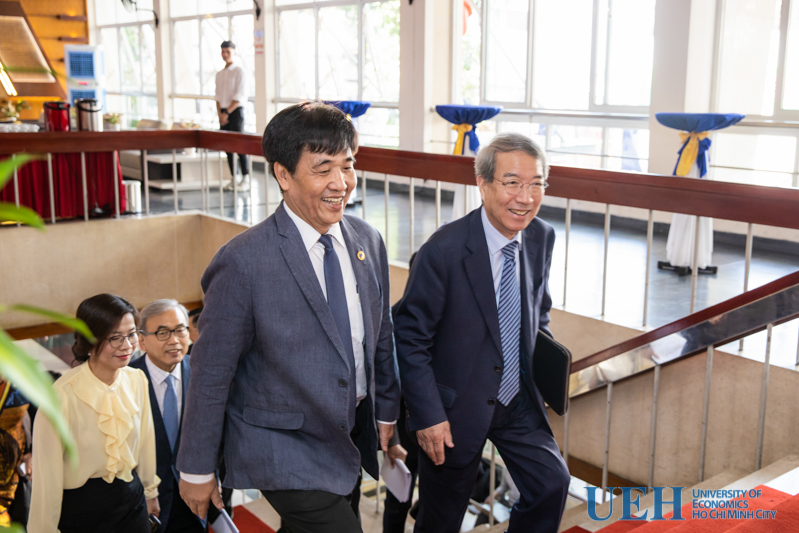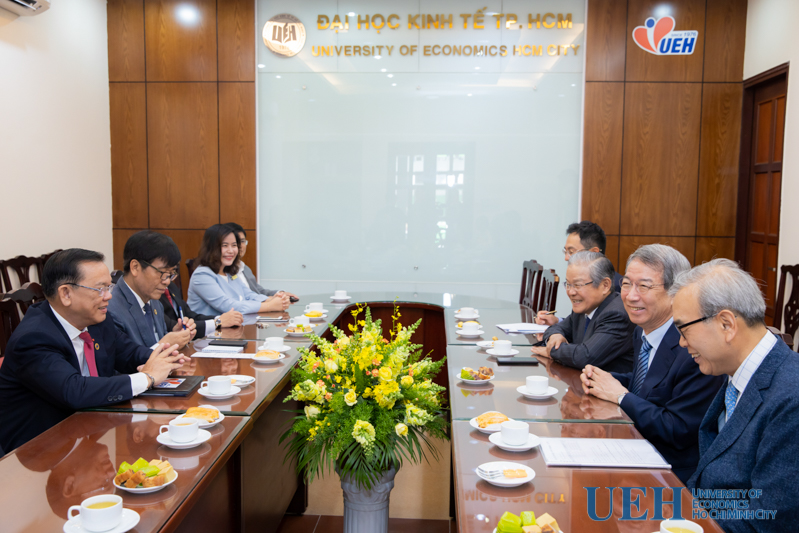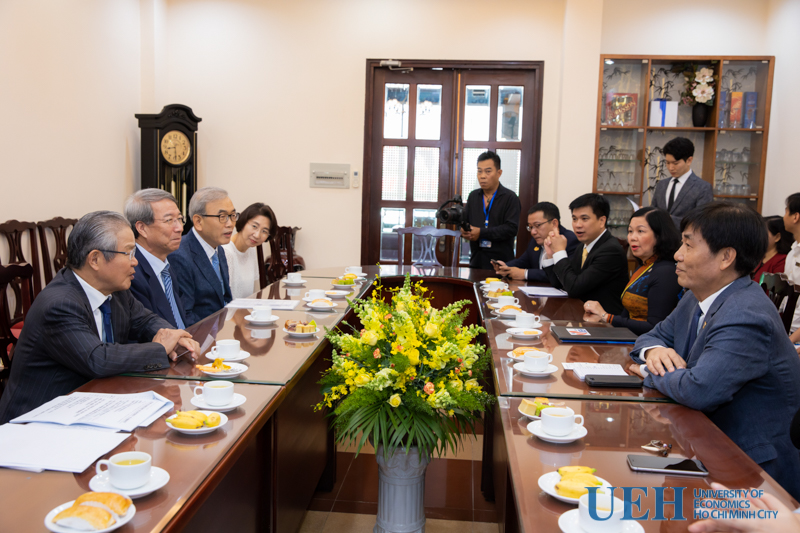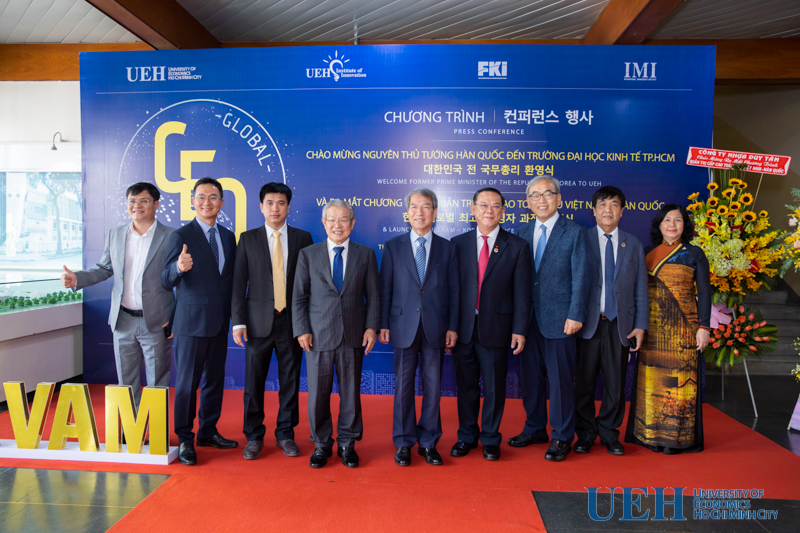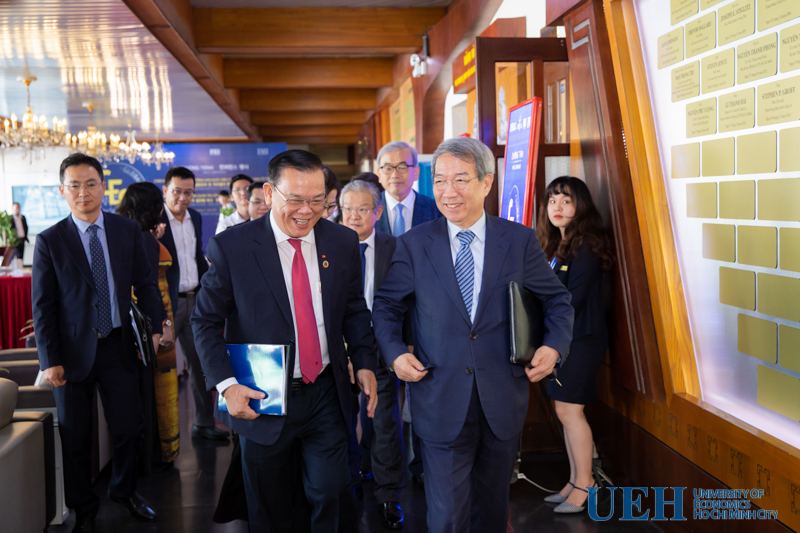 Welcome Former Korean Prime Minister to the University of Economis Ho Chi Minh City
In the morning of 29th November 2019, at Room A.103, Campus A, University of Economics Ho Chi Minh City (UEH) took place the event "Welcome Former Prime Minister of The Republic of Korean to UEH and launching Vietnam-Korea  Advance Management Program".
UEH had the great honor to welcome Dr. Chung Un-Chan - Former Prime Minister of the Republic of Korea; Dr. Young-June Park - Former Deputy Minister of Trade, Industry and Energy; Mr. Tae-Shin Kwon - Vice Chairman of FKI; Mr.Bong-Man Kim - Secrectary General of IMI; Mr. Hans Joo - Manager of IMI.
On behalf of UEH, there was the participation of Prof. Nguyen Dong Phong - President; Assoc.Prof. Phan Thi Bich Nguyet - Chairman of UEH Consulting University Council,  Head of UEH Institute of Innovation; Prof. Nguyen Trong Hoai - Vice President, Assoc. Prof. Nguyen Huu Huy Nhut - Vice President with leaders of departments of the UEH. Distinguished guests included these leaders of Departments of Industry and Trade, Departments of Planning and Investment, Departments of Tourism of Ho Chi Minh City, Tien Giang, Dong Nai and Binh Duong; Vietnam Chamber of Commerce and Industry (VCCI) and the leading enterprises in Vietnam.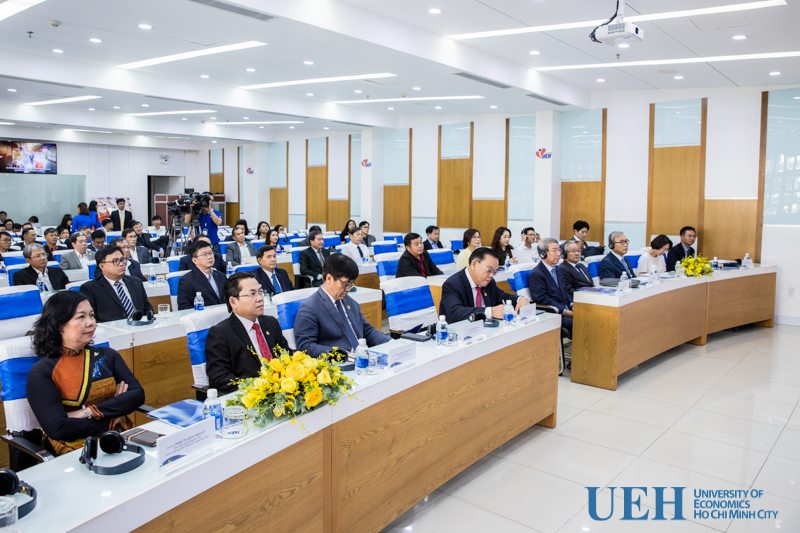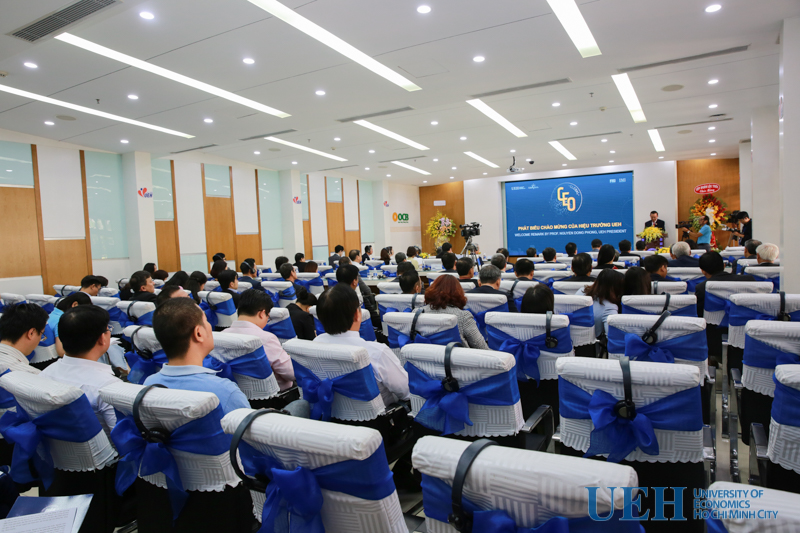 The whole view of the press conference
Speaking at the event, Prof.Dr. Nguyen Dong Phong - President of UEH affirmed that: "Through the Korea-Vietnam Advance Management Program, UEH will establish the bridgehead for Korean and Vietnamese enterprises to coordinate and succeed in the global market. In addition, UEH is willing to put the needs of Vietnamese and Korean enterprises at the center of integration and business development in order to achieve a milestone: Vietnam and Korea target to reach $100 billion of bilateral trade turnover by 2020."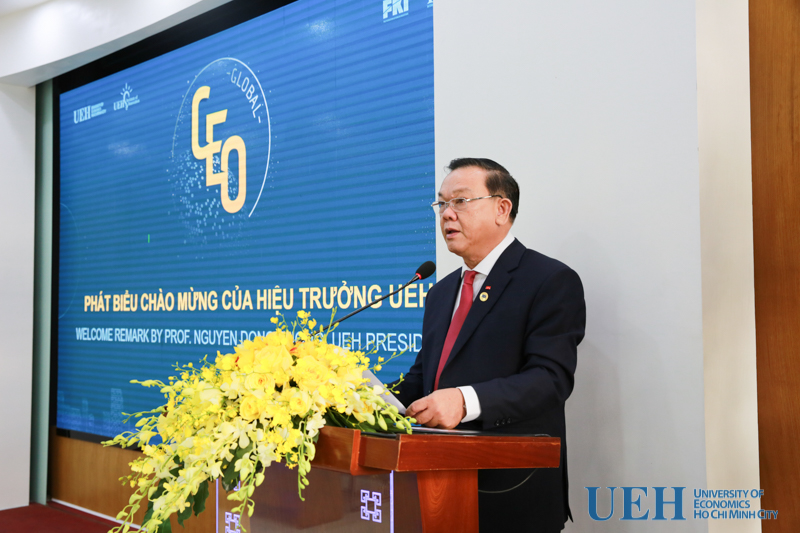 Prof.Dr. Nguyen Dong Phong - President of UEH delivering the opening remark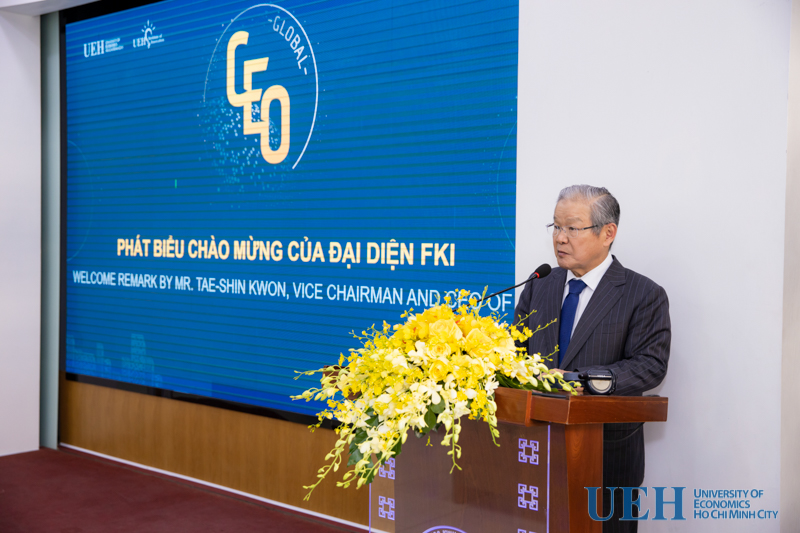 Mr. Kwon Tae - Shin - Vice Chairman of FKI made a speech
Former Korean Prime Minister presented the topic: Shared Growth between Vietnam and Korea on the Foundation of Trust. As a role of former Korean Prime Minister and Chairman of Korea Institue for Shared Growth, Dr Chang explained what shared growth exactly is and how the principles apply to shared growth between Vietnam and Korea. He confidently argued that education plays a crucial role in a long-term solution. Universities must share growth with the local community and serve as the source of energy for creativity.
Especially, Dr. Chang believed that this conference by the International Management Institute (IMI) of the Federation of Korean Industries (FKI) and the University of Economics Ho Chi Minh City (UEH) would contribute to promoting bilateral cooperation between Vietnam and Korea. The IMI, which is a part of Korea's leading private organization FKI, would be able to transfer the successful know-how of Korean companies to Vietnamese companies. The FKI can offer know-hows that have accumulated for the past 40 years of programs such as corporate education that includes the CEO program, the next-generation CEO program, global cooperation, and many more. He believed that the cooperation between the two organizations would contribute to the shared growth of Vietnam and Korea.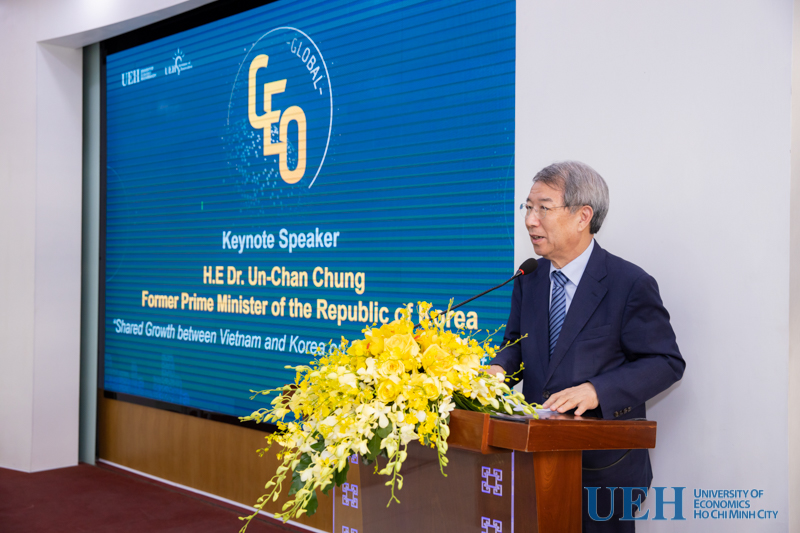 Former Korean Prime Minister presented the topic: Shared Growth between Vietnam and Korea on the Foundation of Trust
Federation of Korea Industries (FKI), a prestigious federation, headed by the leaders of conglomerates such as Hyundai, LG, SK, Daewoo group… has coordinated with UEH to organize the training program "Korea-Vietnam Advanced Management Program" in line with Vietnam enterprises' needs to become global ones based on experience of Korean corporations and UEH's prestigious teaching in the field of economics and management.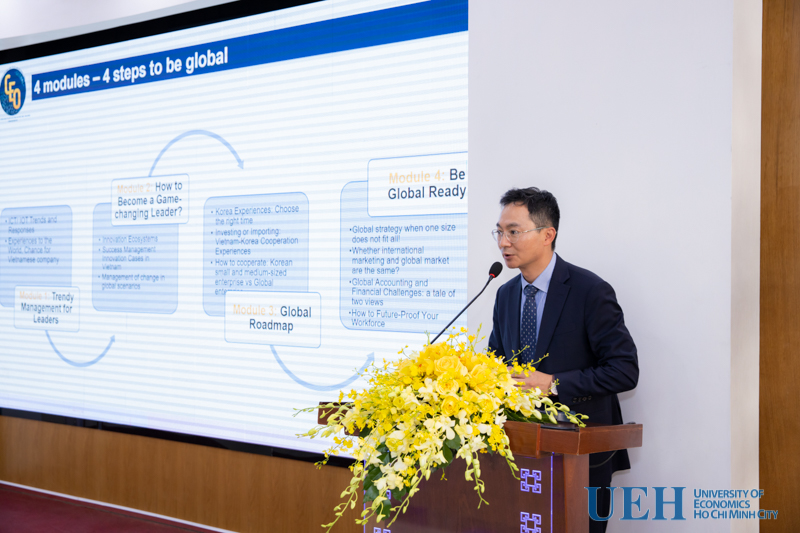 Mr.  Kim Bong-Man - Secrectary General of IMI introduced the program
With the format for strategic, marketing, financial directors, senior executives at Vietnamese businesses, the four outstanding features of the program include:
Connecting and sharing: 20 sharing sessions every weekly Tuesday will be organized in the format of business roundtable (networking and sharing) for the purpose of sharing and eastablishing global relationships between Vietnamese and Korea businesses. The program includes: evenings & dinner (dinner networking), sports & sharing (sport networking).
Secret know-how of Korean global enterprises: These lessons learned from successes and failures are shared by leading leaders at Korean corporations.
Field trip in the Land of Kimchi: Opportunities to experience and self-learn for a week at leading businesses in Korea.
A sound basis to enter the international market: The program could offer value for businesses with international opportunities from Vietnam's current economic and diplomatic policies to expand into the global market as well as build and develop a global business.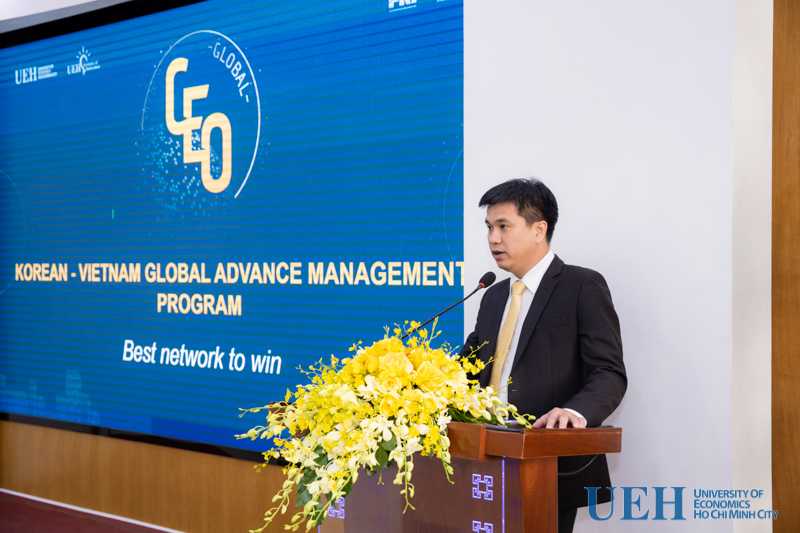 Dr. Bui Quang Hung - Head of Department of Finance - Accounting,  Vice Head of UII introduced the program
The first program will start in March 2020. The program is shared every Tuesday night, lasting for 20 weeks, including 1 week of sports for connection and 1 week of field trip in Korea.
Videoc clip: Introduction about Korea - Vietnam Global Advance Management - KVAM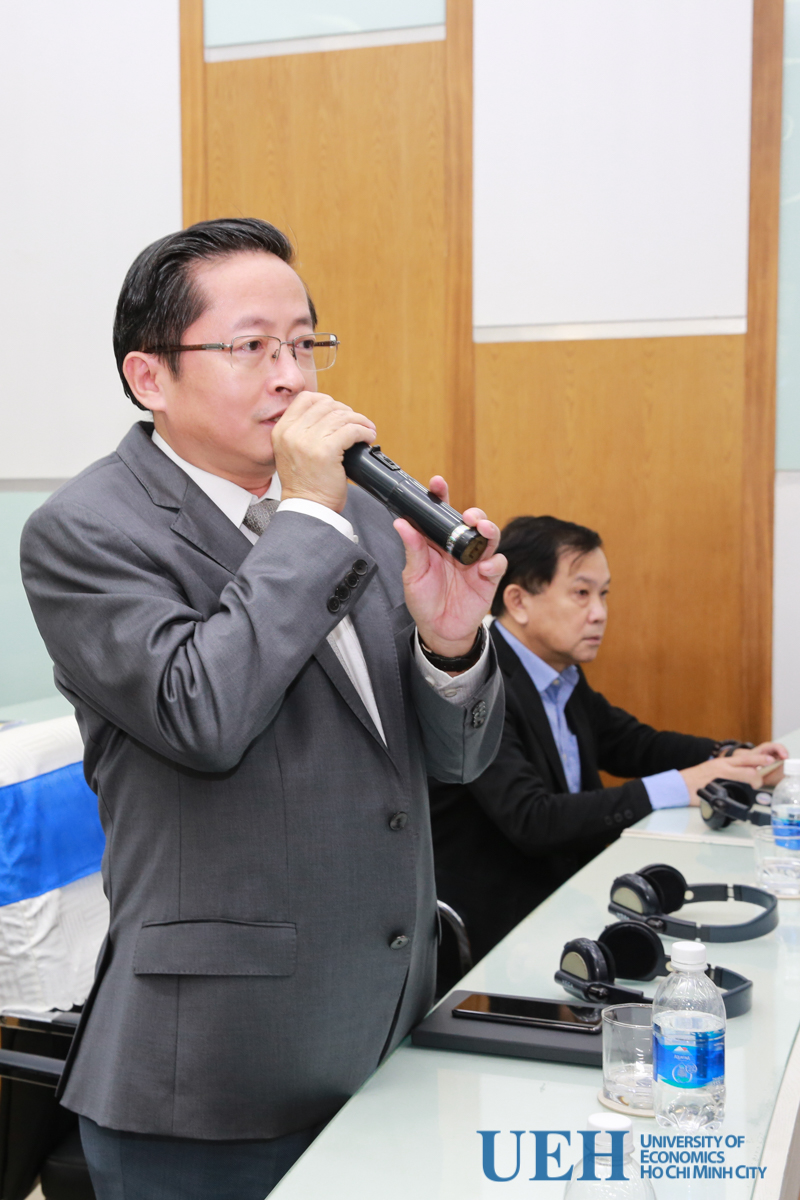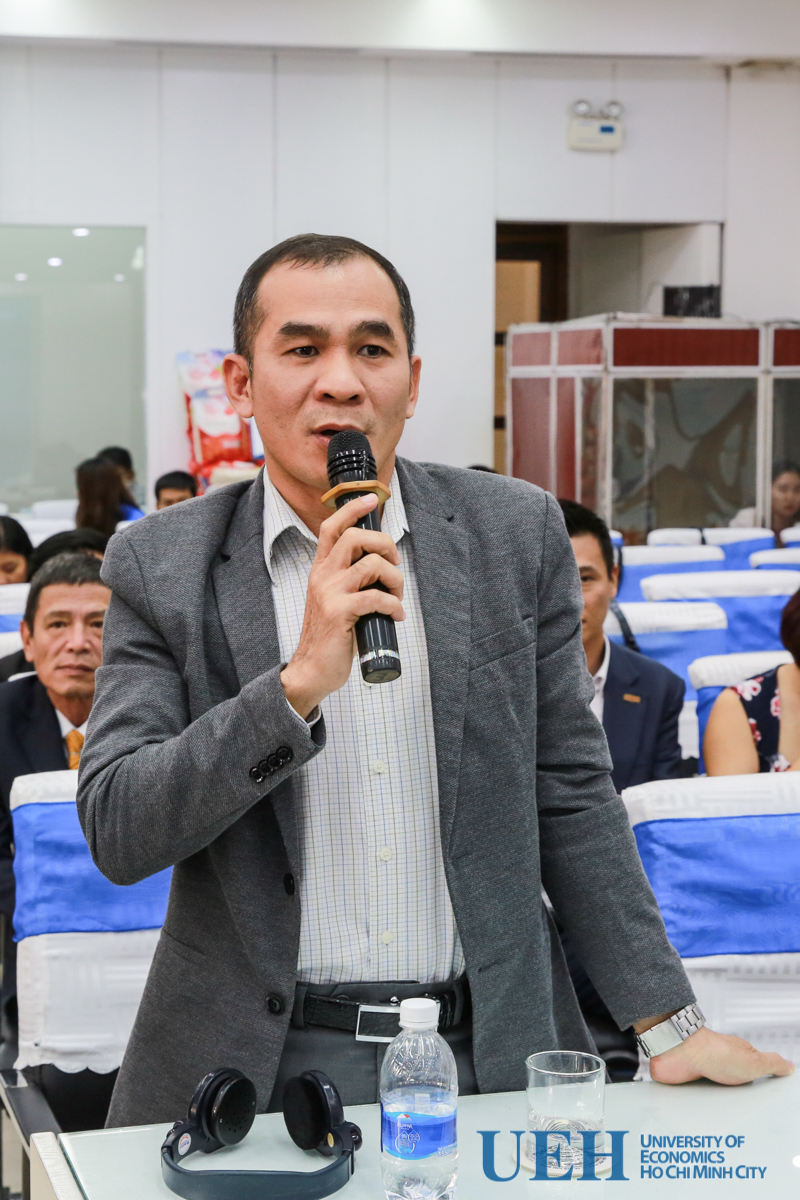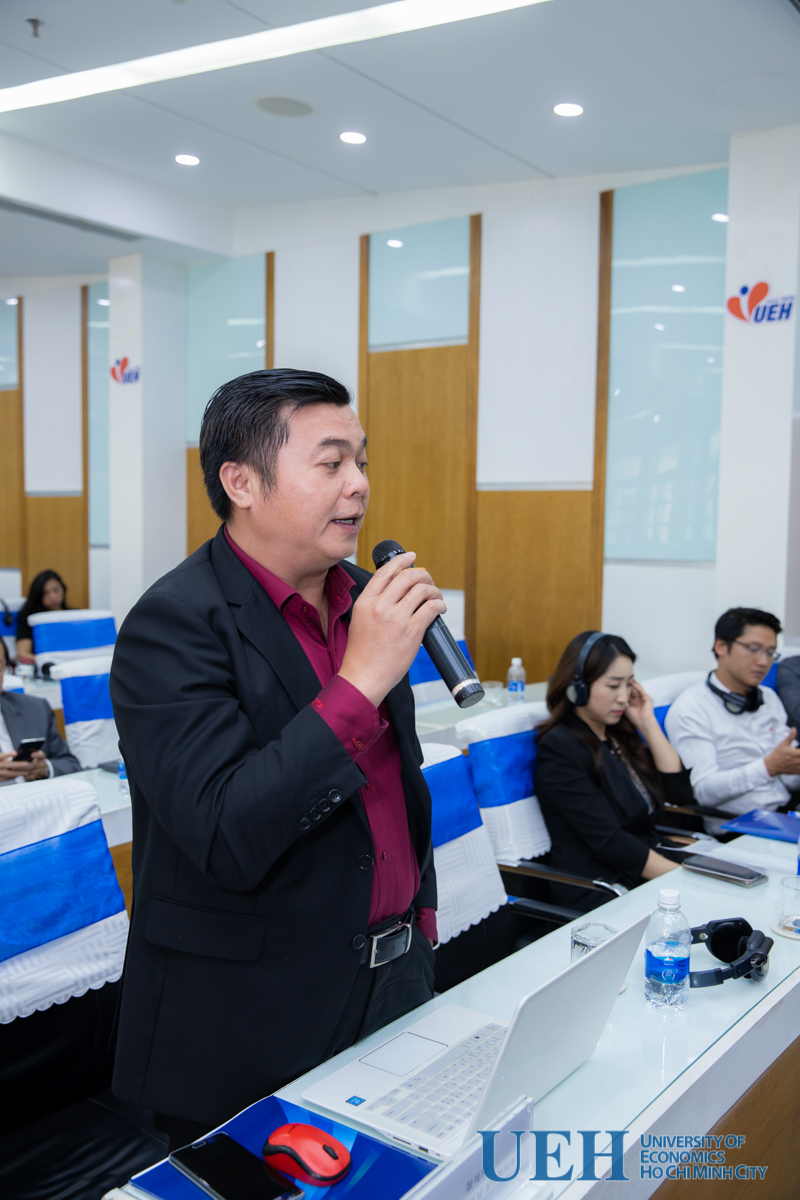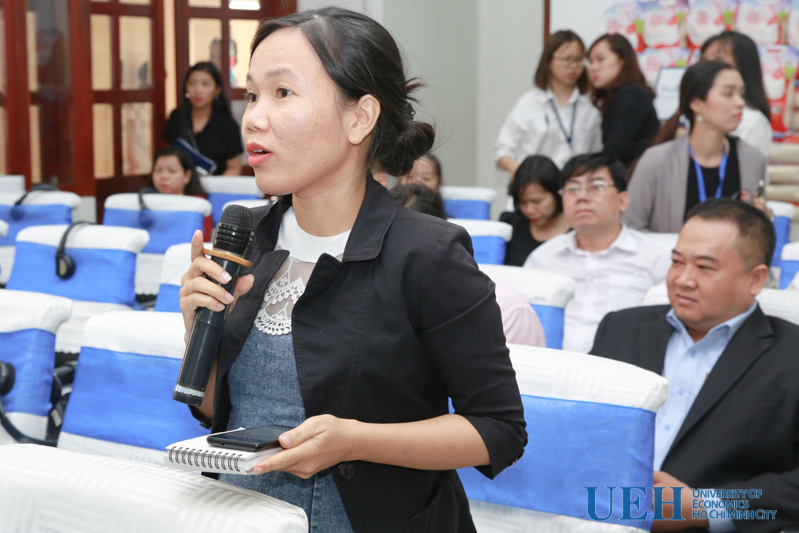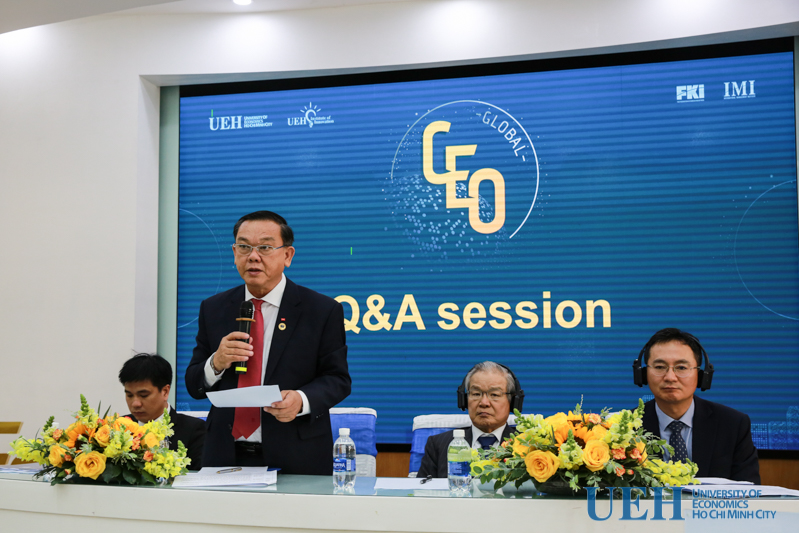 Q&A section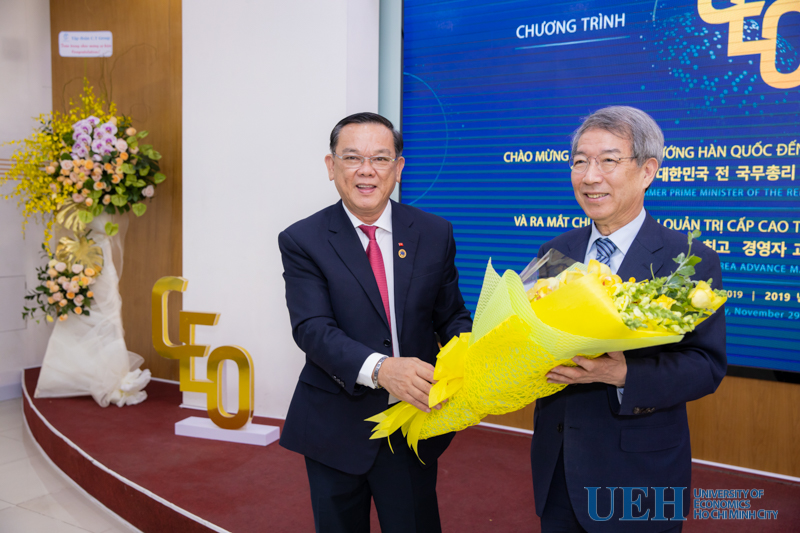 Prof.Dr. Nguyen Dong Phong gave flowers to thank Former Korean Prime Minister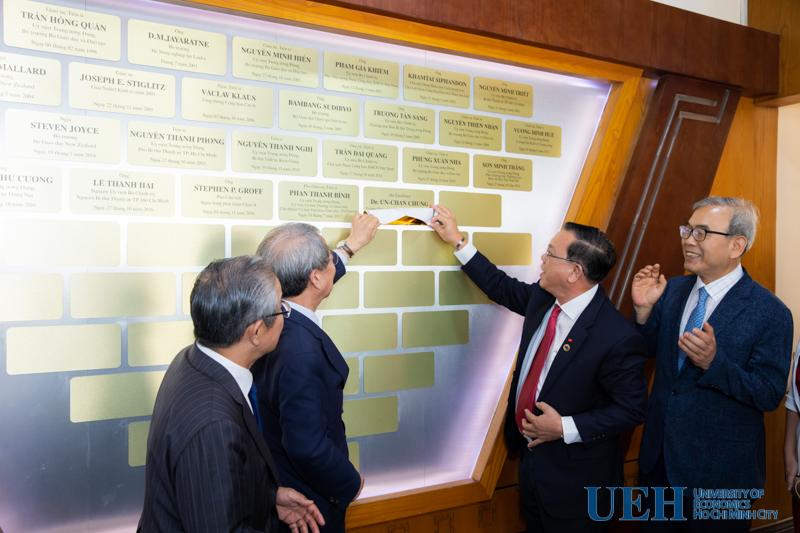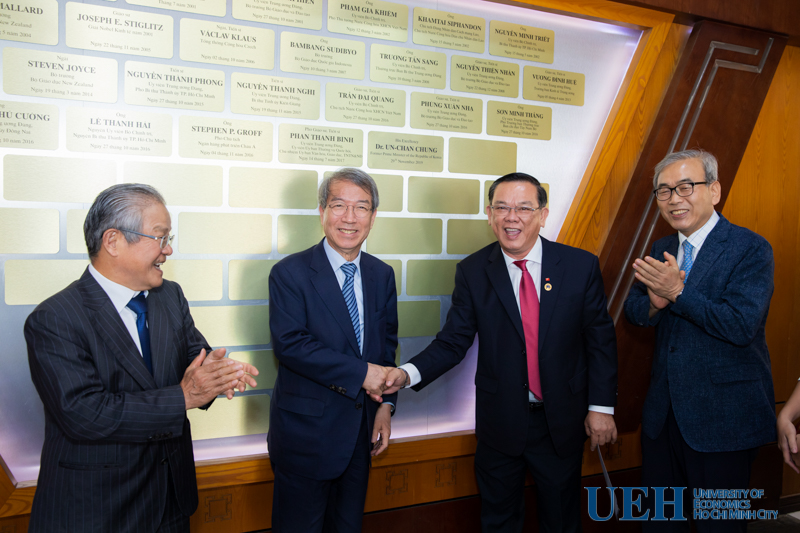 UEH honored Former Korean Prime Misnister with the Golden Board for VIP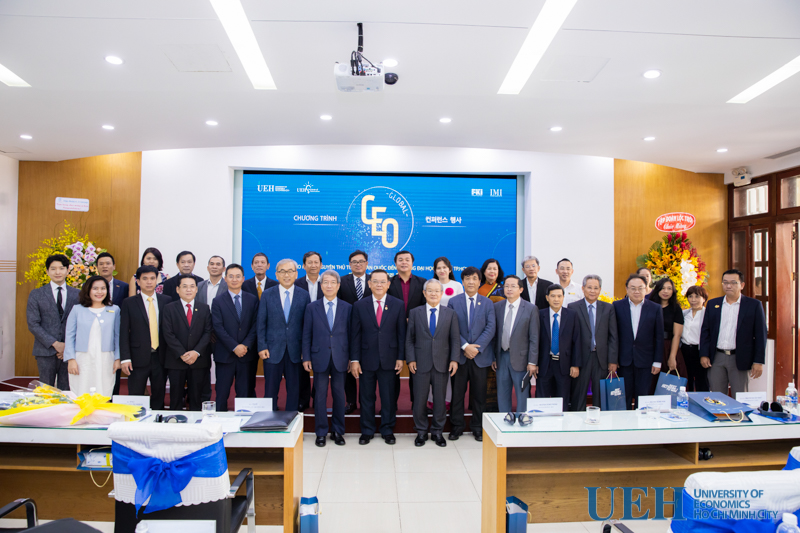 All participants took grand photo
Some other photos of the press conference: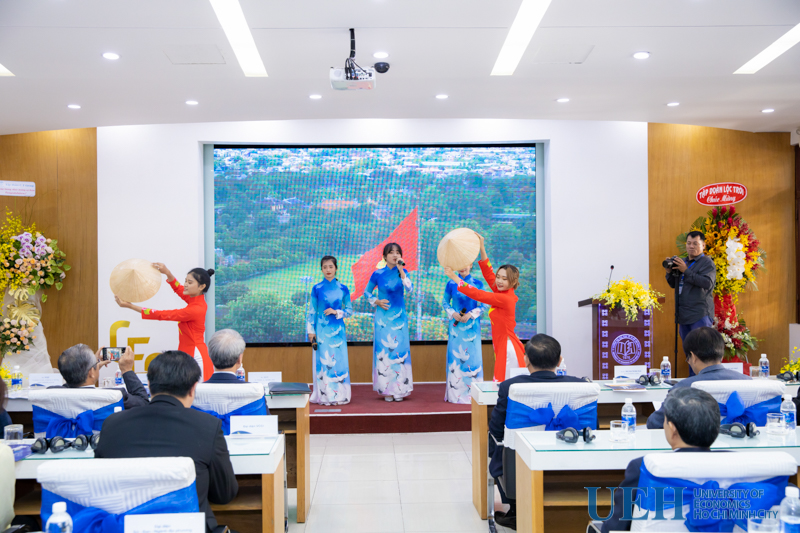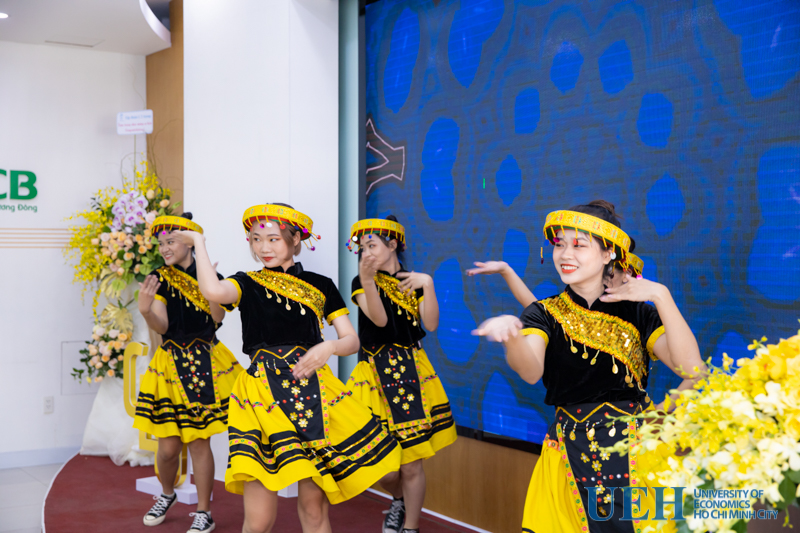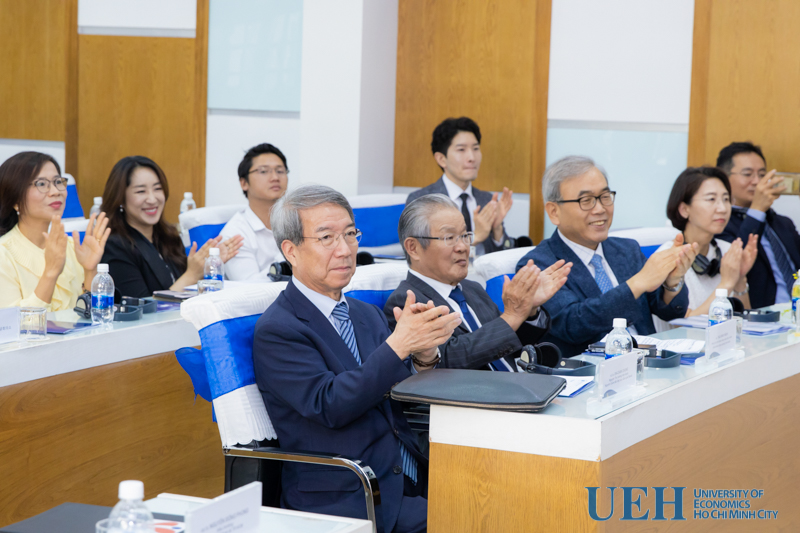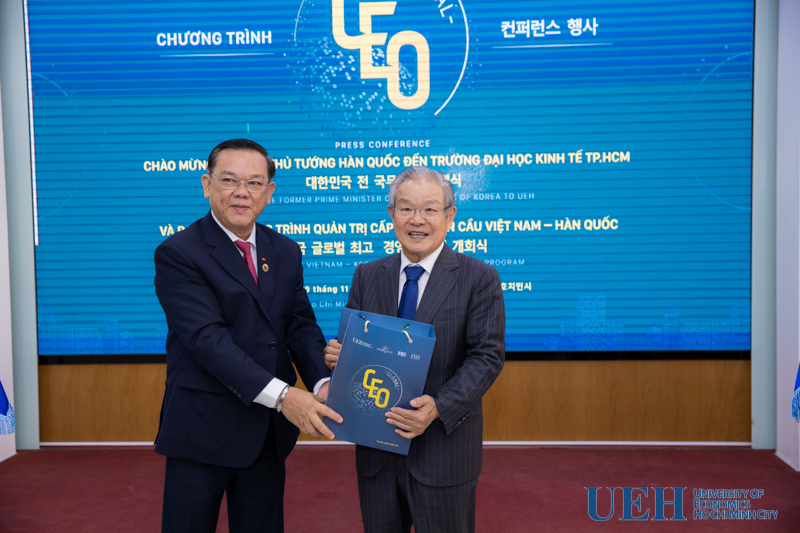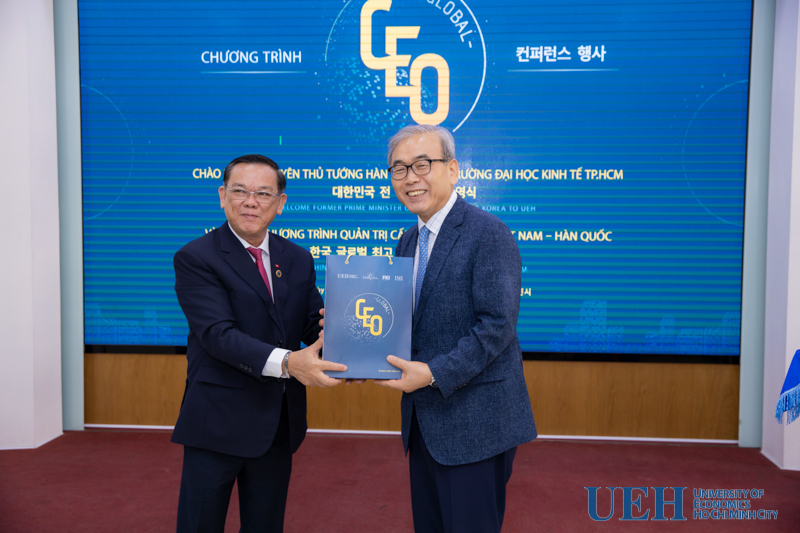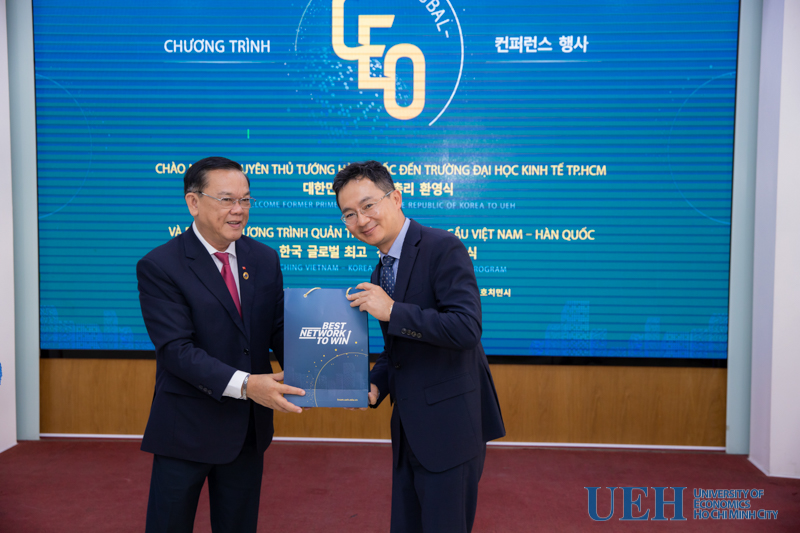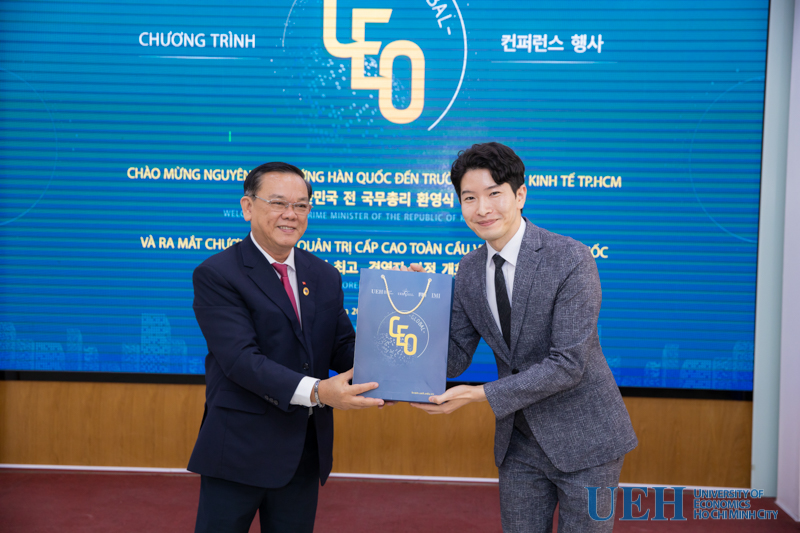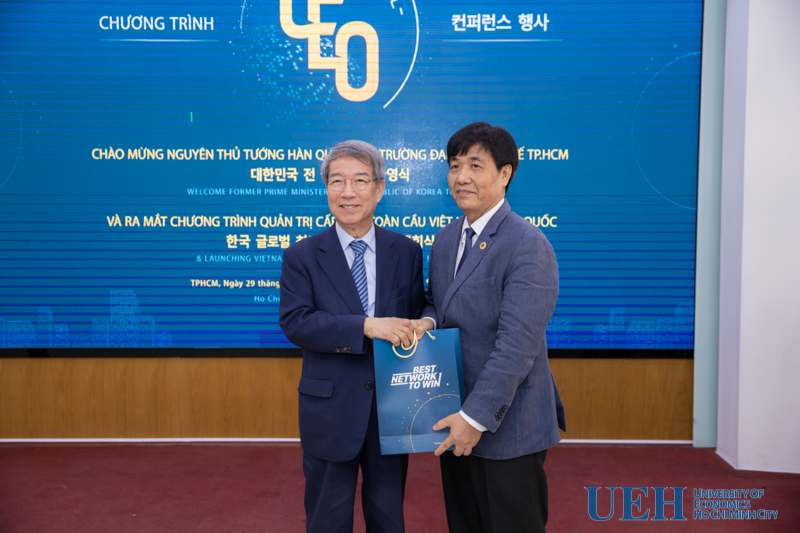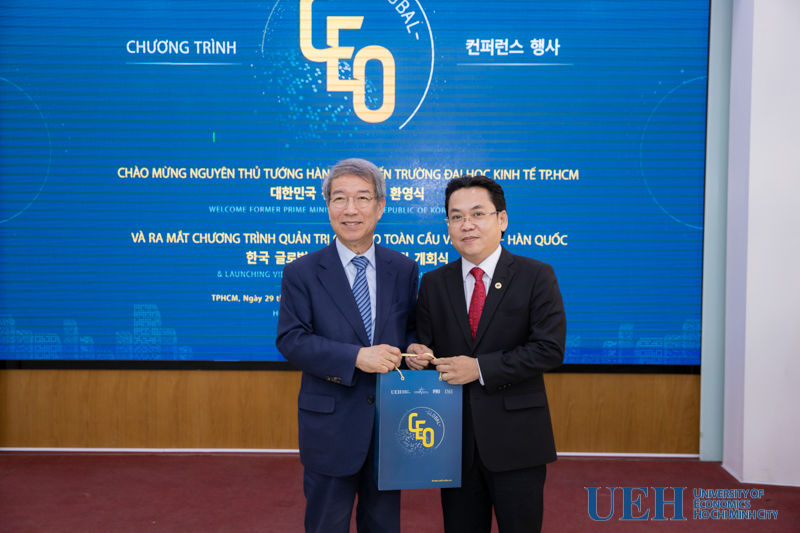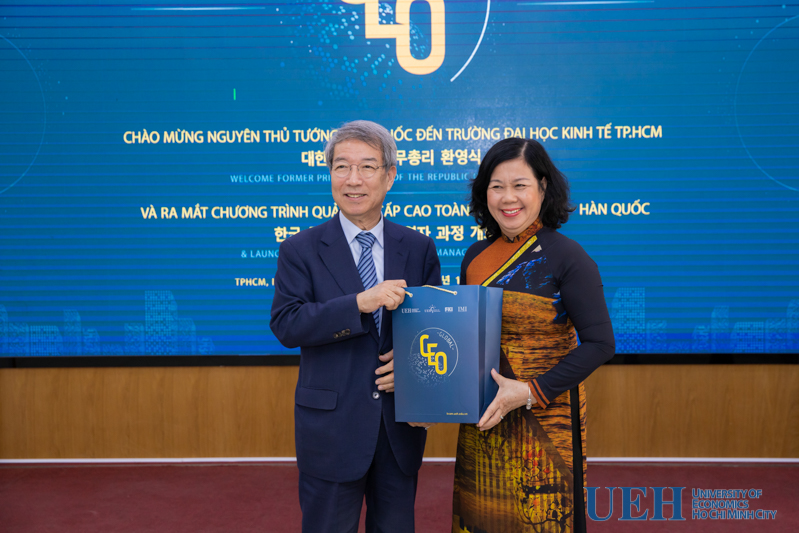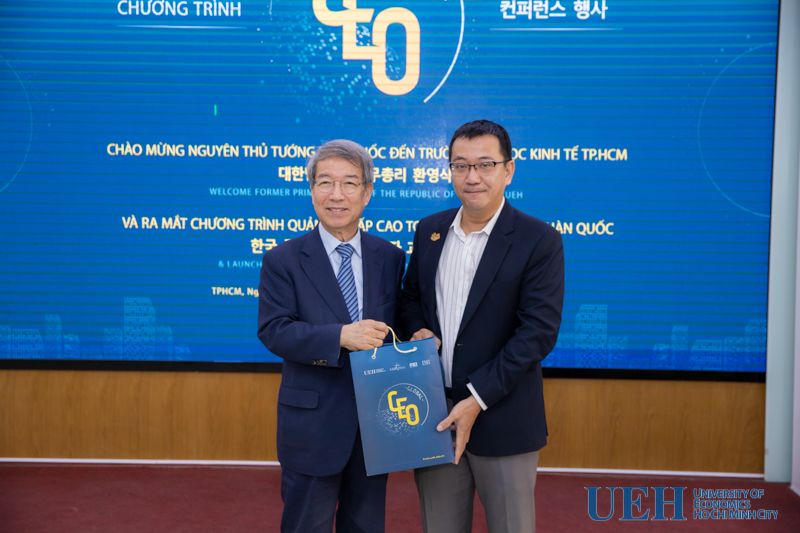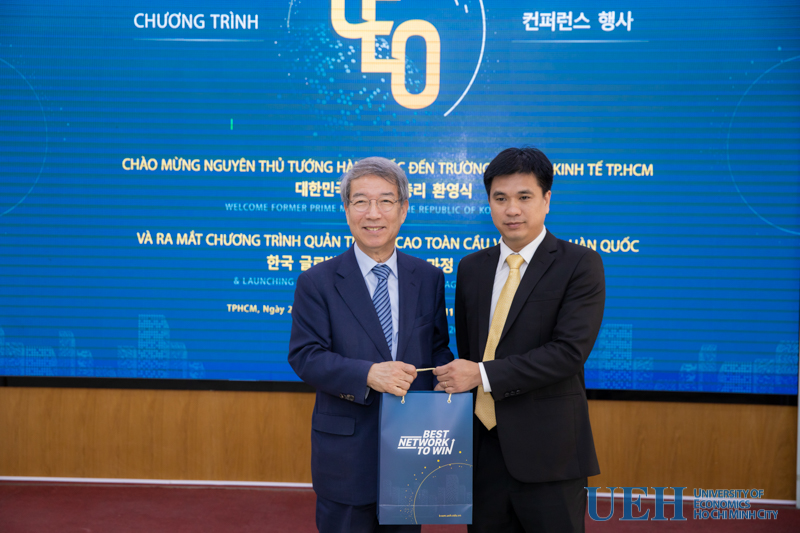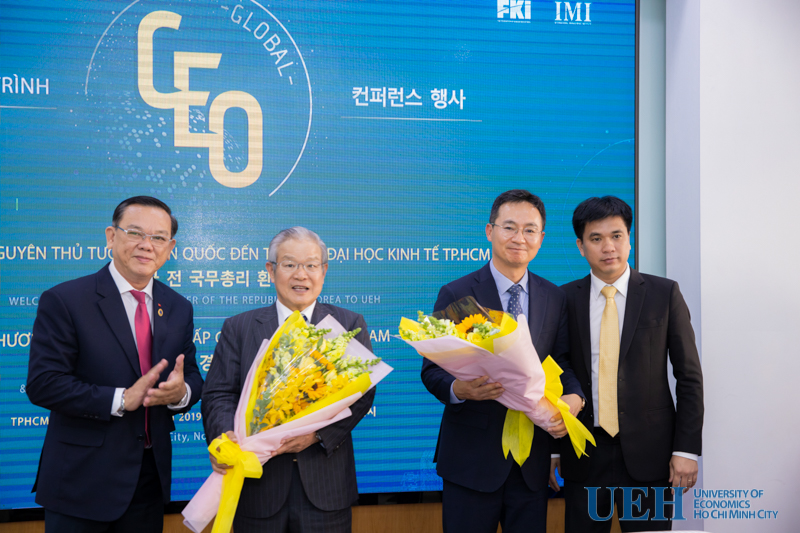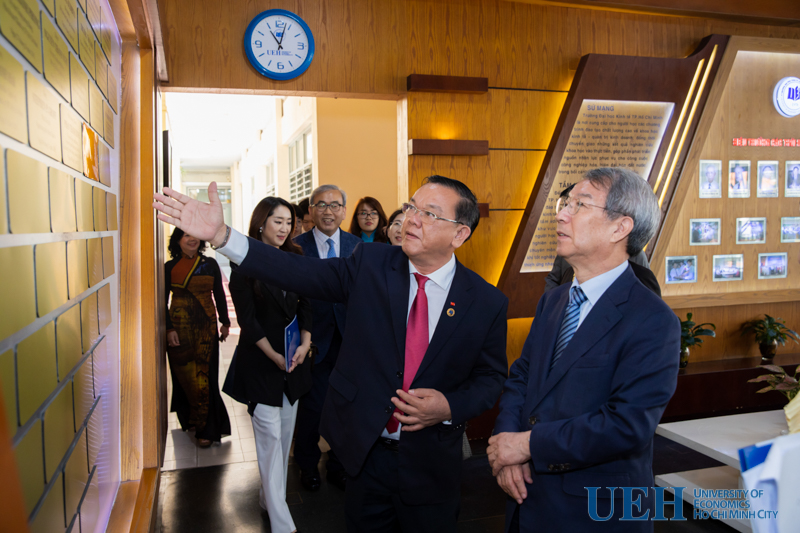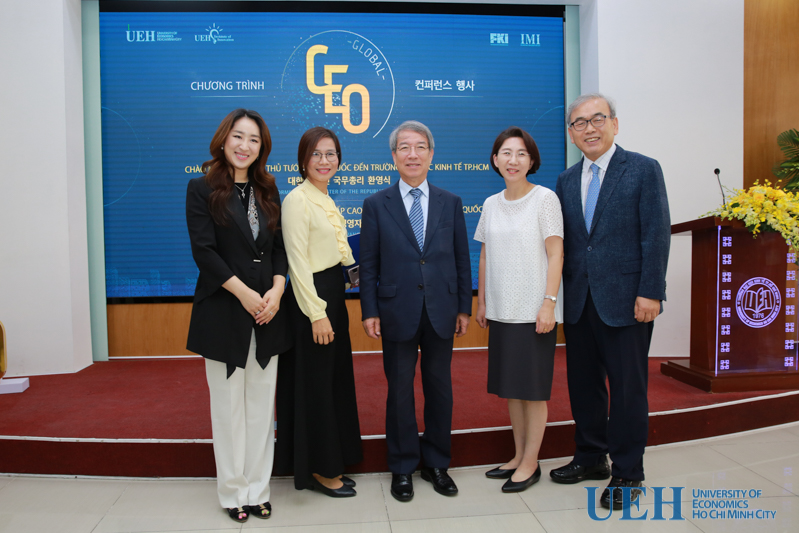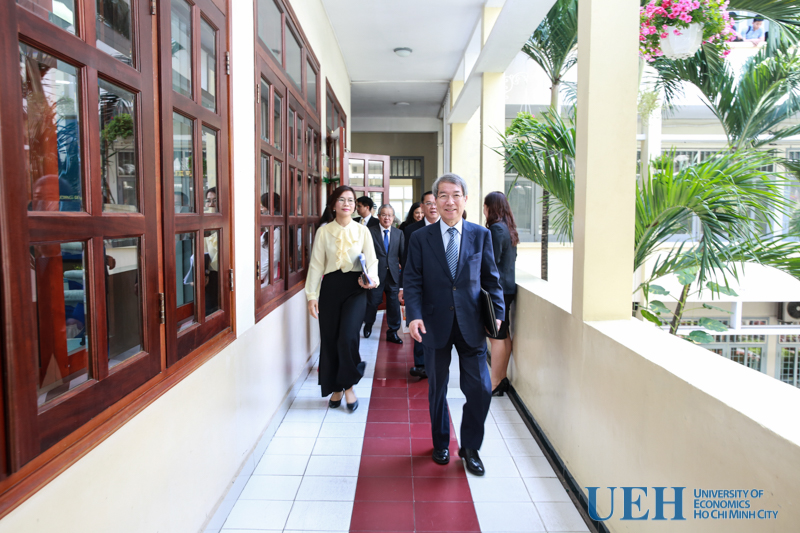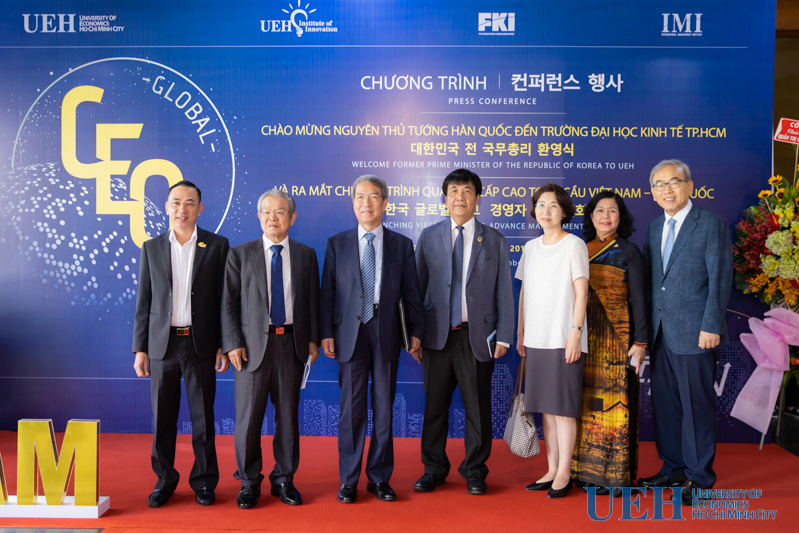 Source: Department of Communications and Public Relations.