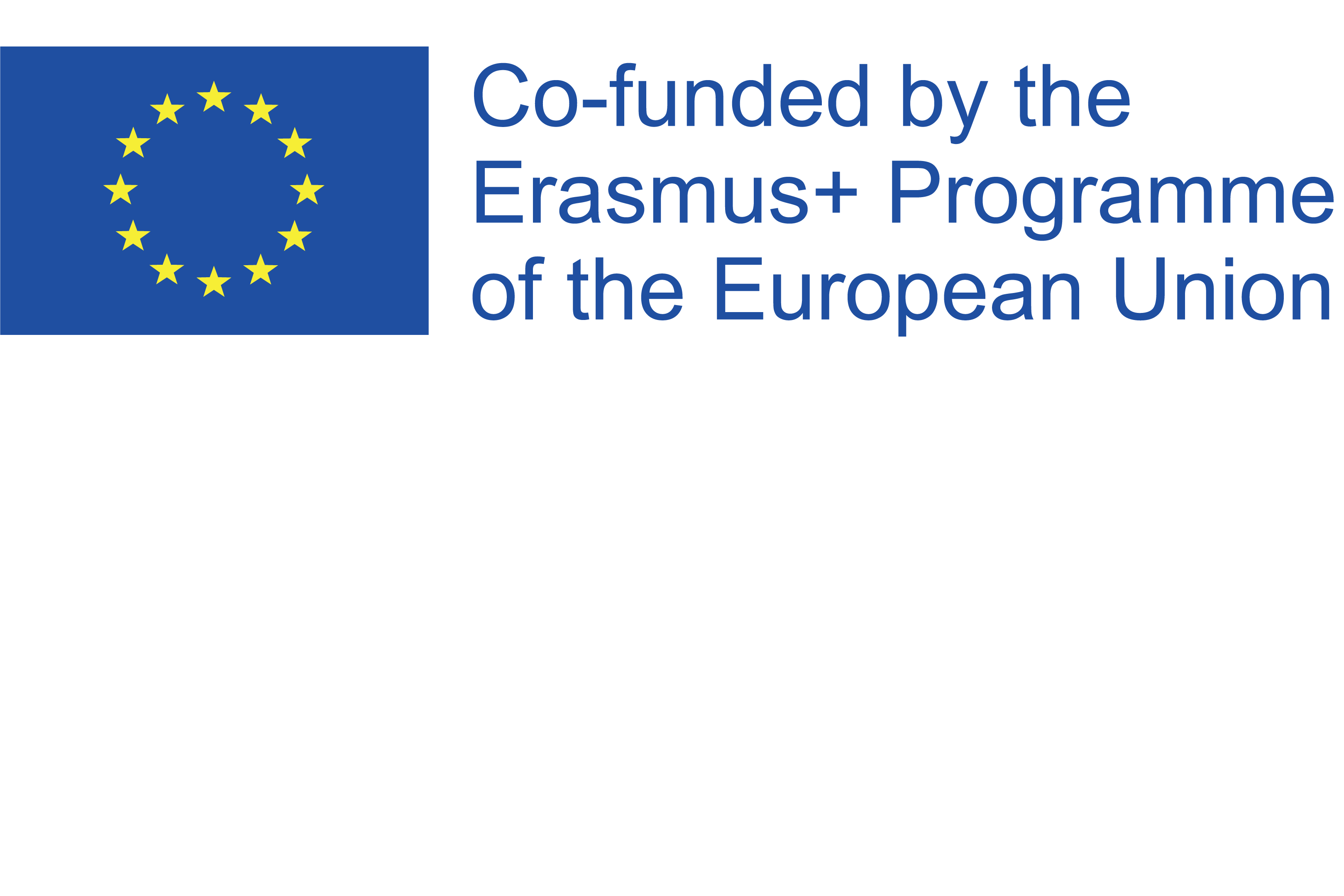 UEH attended the Joint Enterprise Learning - Annual Meeting and Workshop 2020 from Erasmus+ JEUL project in Czech Republic
The Joint Enterprise University Learning - Annual Meeting 2020, and the Workshop on Embedding the Results of the Enterprise Survey and Feedback from Student Placements - "Co3 Education: Collaborative, Cooperative and Company Driven" was held at Skoda Auto University (SAU), Mladá Boleslav, Czech Republic from January 10th to 17th, 2020.
The delegation of University of Economics Ho Chi Minh City (UEH) to the Meeting and Workshop includes Prof.Dr. Nguyen Trong Hoai - Vice President; Dr. Nguyen Thi Thuy Linh - Leader of JEUL project at UEH and Assoc.Prof.Dr. Tran Tien Khai - Head of Department of Quality Assurance and Curriculum Development.
Group photo: JEUL Annual Meeting 2020 at Skoda Auto University, Mladá Boleslav, Czech Slovakia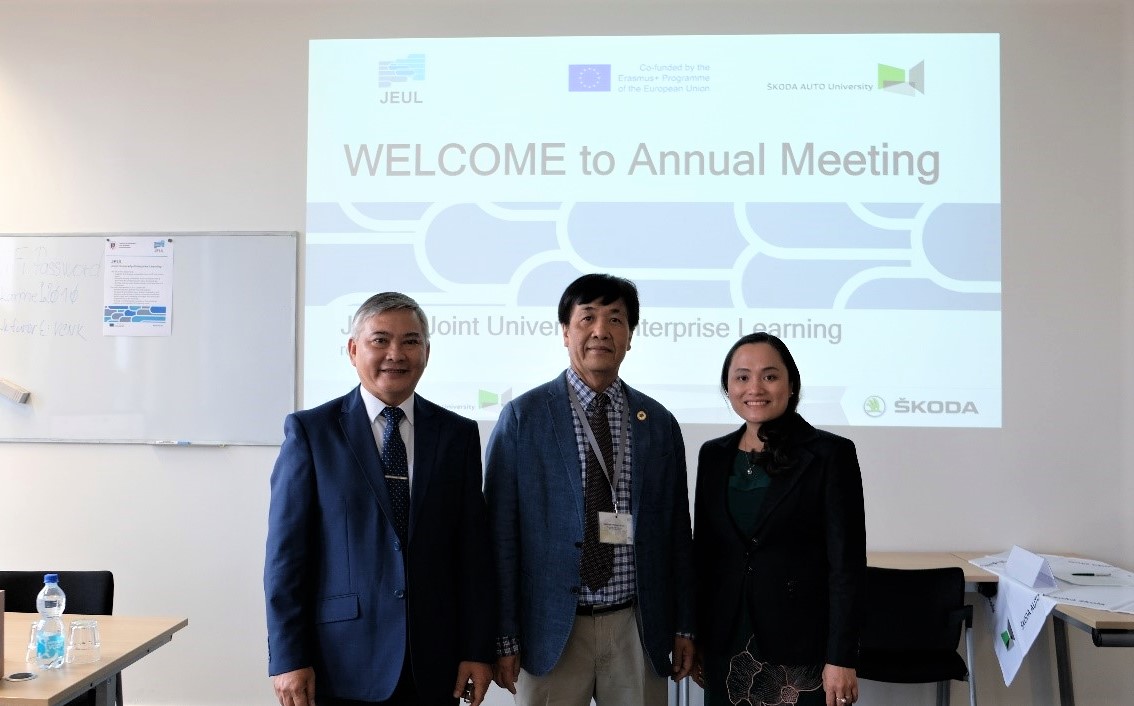 UEH's delegation at Annual Meeting 2020 of JEUL project
The workshop's working process was divided into 2 phases:
The first phase from 10th to 11th January 2020 was devoted to JEUL Annual Meeting 2020, in order to present and discuss project implementation results, especially from Vietnamese and Chinese partners. This phase focused on the results achieved from activities related to different Work Packages by international university partners.
The second phase, which took place from 13th to 17th January 2020, was a Workshop on "Embedding the Results of the Enterprise Survey and Feedback from Student Placements". This second part mainly focused on reviewing JEUL Survey Results; Practical Corporate Experience; Practical Education; Curricula Development; Developing Entrepreneurial Spirit and Cooperation with the Enterprise.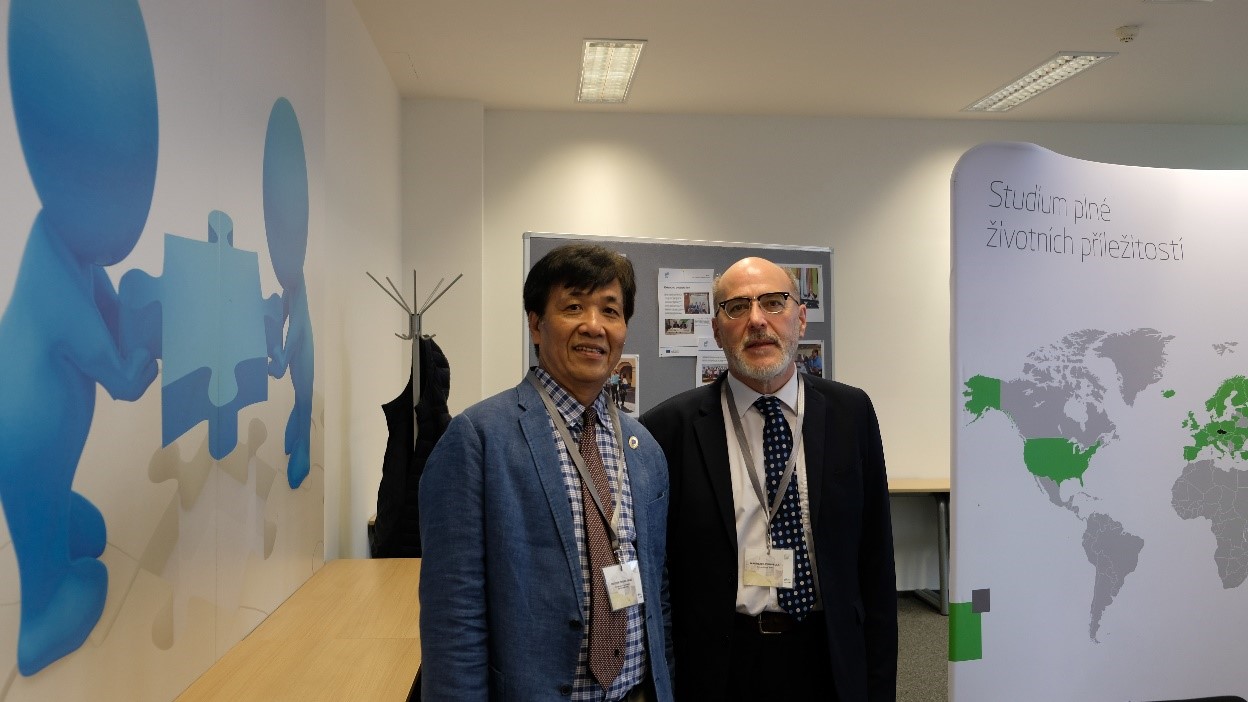 Prof.Dr. Nguyen Trong Hoai and Prof. Maurizio Pompella, Leader of JEUL project
Concluding the seminar were presentations from Vietnamese and Chinese partners on the experiences and results drawn from the project's work packages and prospective of project experiences mainstreamed into development activities of partner universities.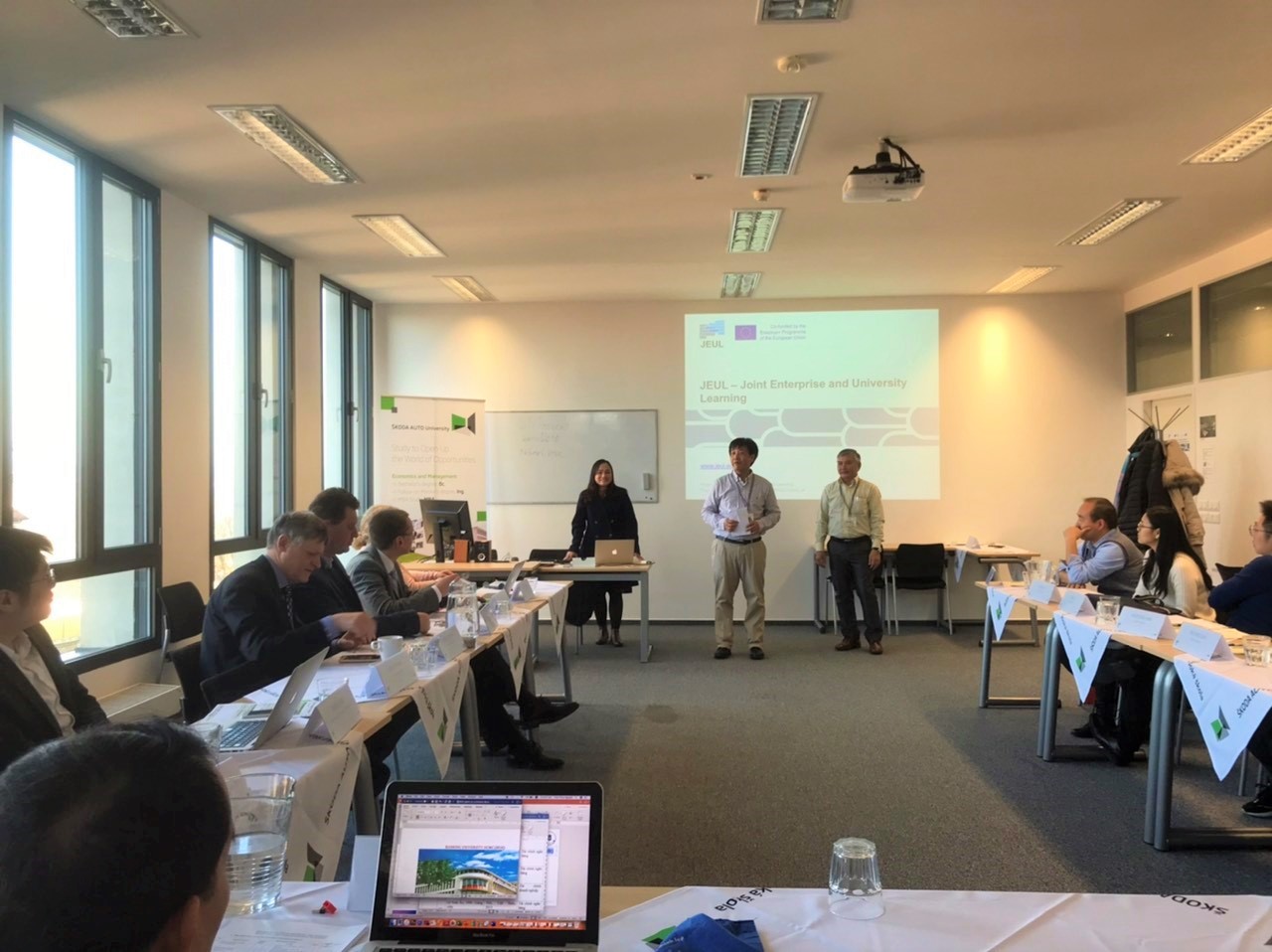 Presentation of UEH's delegation
During the workshop, the UEH delegation presented, discussed and effectively contributed to the activities of the workshop and the project. Within the framework of JEUL project, UEH has participated in 4 Work Packages, namely WP1 - Establish Links with Industry, WP2 - Develop and utilize Case studies in Teaching (DEV), WP3 - Identify Skills and knowledge shortages and embed the required skills in the curricula. (DEV), WP4 - Develop teaching material for 2 undergraduate modules on the Enterprise Pathway and a suitable Virtual Learning Environment (VLE) deliver mode (DEV). All four WPs' completed and on-going activities were fully reported and highly appreciated. In particular, the official launching of the UEH's Simulation Centre for practice and research activities, sponsored by Erasmus+ JEUL project of the European Commission has confirmed UEH's willpower and determination of positive development new approach to link academic educational curricula to practical working environment.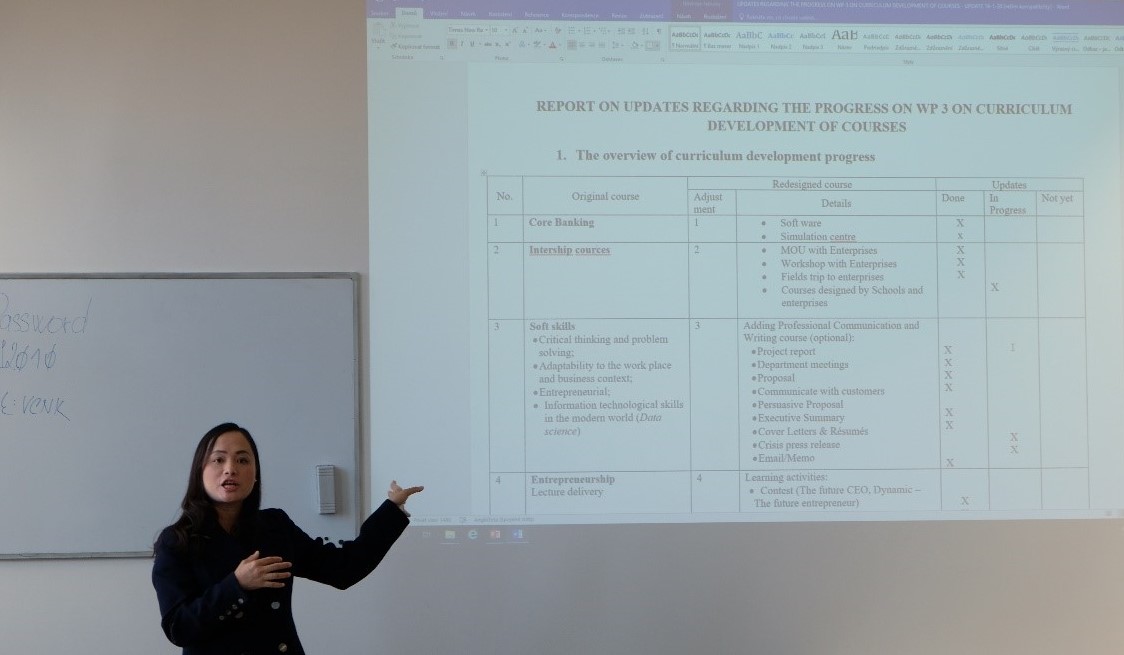 Presentation of Dr. Nguyen Thi Thuy Linh at JEUL workshop 2020
The Erasmus+ JEUL project and experience of Skoda Auto University have meaningfully and significantly contributed to the UEH's strategies and practical activities for re-orientation of its curricula towards closer and stronger links to industries and enterprises. For UEH, development of links to industry and enterprises is critical and worthy in respect of student benefit. UEH is working with effort to strengthen the links through diverse measures at university, school, department and faculty levels. Inherited practical experiences from JEUL project and Skoda Auto University have been integrated into UEH's process of internationalization and curricula renovation.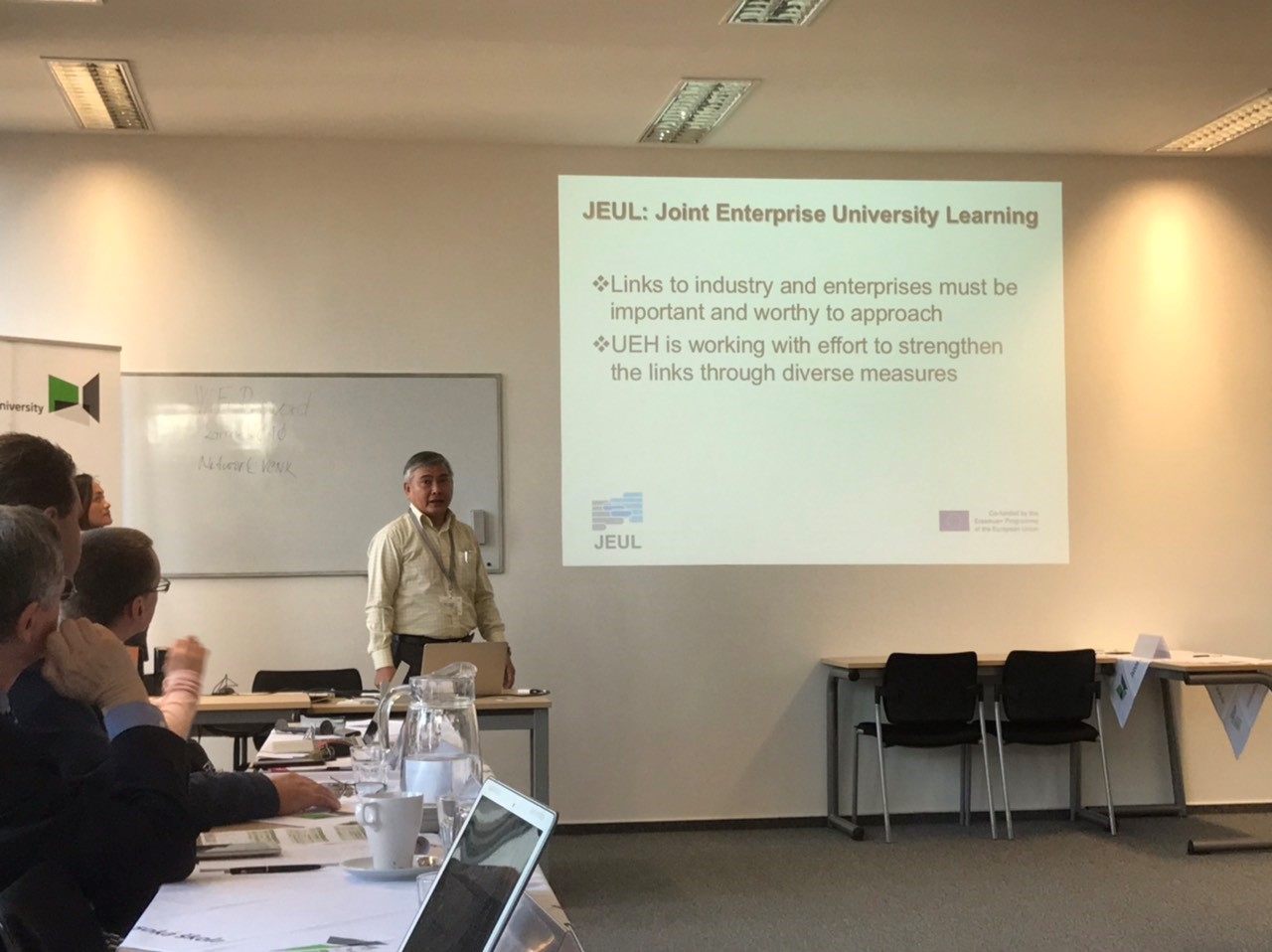 Presentation of Assoc.Prof.Dr. Tran Tien Khai at JEUL workshop 2020
There have been changes in educational environment in recent years. Stronger competition in business forces enterprises to search competent students. Learners have well-recognized diverse requirements of employers, especially soft-skills, practical and professional ability. Meanwhile, universities have to satisfy updated requirement of society for employment rate of graduates and to follow the educational standardization under pressure of international quality assurance and accreditation.
In the year 2020, UEH is going to further review its curriculum, focusing more on the link between university and enterprises. Participation of stakeholders, employers, alumni, and practitioner will be emphasized in process of curricula improvement. Integration of internship, practitioner's participation and instruction in courses, application of case-studies and problem-based solving approach, increase of student visit and excursion to companies, effect use of Simulation Centre, which is co-funded by the Erasmus+ programme of the European Union, and encouragement of part-time job for students at companies are important ways that UEH will be a very focal approach to the curricula development.
In near future, UEH search for oversea mobility fund to increase staff and faculty exchange to learn and practice international models to improve enterprises collaboration. The JEUL project is an important channel to support these changes.   
Source: Erasmus delegate, Department of Communications and Public Relations.