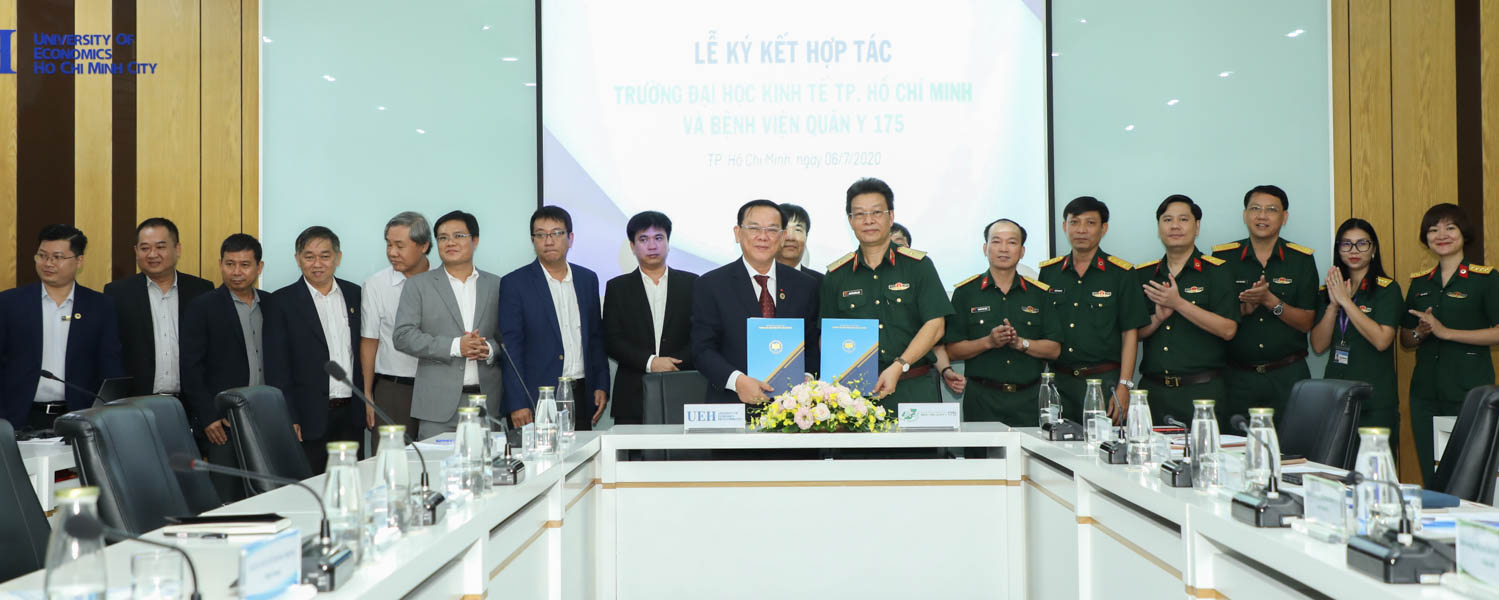 University of Economics Ho Chi Minh City and 175 Military Hospital signed a comprehensive cooperation agreement to foster the development of the community
With the goal of becoming a research-oriented university in many fields and applying scientific research to social practice and improving community responsibility, University of Economics (UEH) has continuously striven for building relationships with domestic and foreign partners.
On the morning of July 6, 2020, at Campus A (based at 59C Nguyen Dinh Chieu), UEH and 175 Military Hospital have signed a comprehensive cooperation agreement.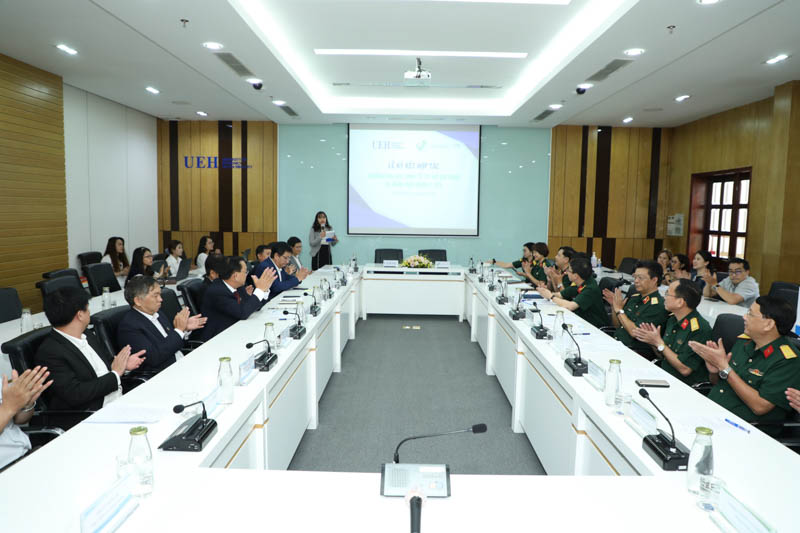 Overview of the signing ceremony
Attending the signing ceremony, on the side of 175 Military Hospital, there were Major General, Assoc. Prof. Dr. Nguyen Hong Son - Director; Colonel. MD. Dr. Truong Dinh Cam - Deputy Director; Colonel Nguyen Van Tuan - Head of Politics; Senior Lieutenant Colonel, MD. MSc. Nguyen Ngoc Huy - Head of Military Science & Training Department; Major Hoang Van Dung - Head of Administrative Staff; Major, MD. Doctor. Dao Duc Tien - Deputy Head of General Planning Division; Captain Dinh Thi Hong Van - Head of Nursing Department; Captain, MSc. Nguyen Thi Ngoc Dung - Head of Foreign Affairs Department.
On the side of UEH, there were Prof. Dr. Nguyen Dong Phong - President, Prof. Dr. Nguyen Trong Hoai – Vice President, together with delegates, teachers who are leaders and experts working in the office, departments, faculties and institutes of UEH.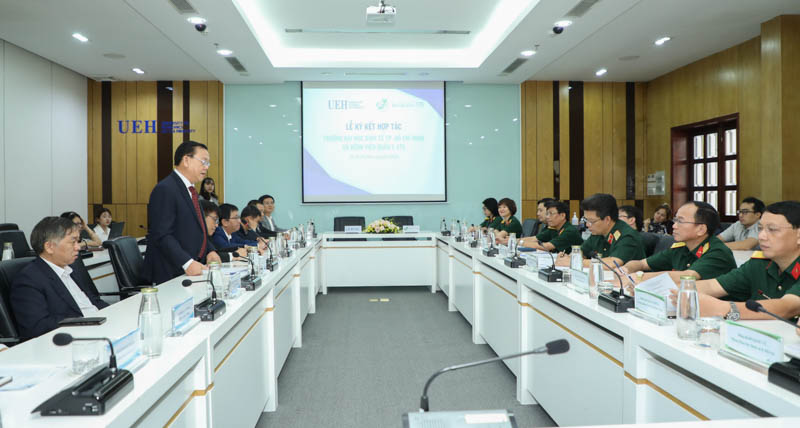 Prof. Dr. Nguyen Dong Phong - President of UEH made a speech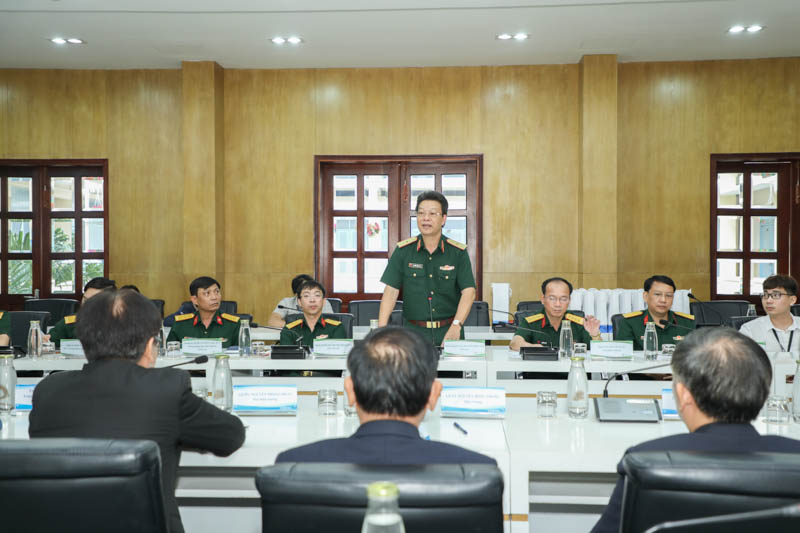 Major General, Assoc.Prof.Dr. Nguyen Hong Son - Director of 175 Military Hospital made a speech
At the meeting, the two units have discussed and committed to cooperation on 04 facets, including: cooperation in training, fostering and developing human resources; cooperation in scientific research and consultation; cooperation in organizing conferences, seminars, scientific discussion and other cooperation content.
Particularly, in terms of training, UEH and 175 Military Hospital will coordinate in the enrollment and training of the Master of Health Administration and Health Care program. UEH will provide professional support and practical training for the undergraduate and postgraduate program of hospital administration. Military Hospital 175 will coordinate and advise UEH on professional and practical training in health-related subjects of undergraduate and postgraduate hospital management majors.
In addition, UEH will organize short-term training and courses (with certificates) according to the needs of 175 Military Hospital. 175 Military Hospital will accept trainees and opens up to recruiting UEH students, especially high-quality human resources, with good professional and foreign language skills.
In terms of scientific research, UEH will assist 175 Military Hospital in piloting two projects proposed by the hospital, namely: (1) consulting on developing a standard procedure for an effective medical examination system, (2) consulting on building and developing internal branding.
Both sides will also cooperate in organizing programs, events, social activities, charity events for the sake of community and culture - art - sports - foreign language exchange. The two sides had signed a contract to provide medical examination and disease screening services (with incentives) for UEH officials and employees under the UEH's regular health examination program.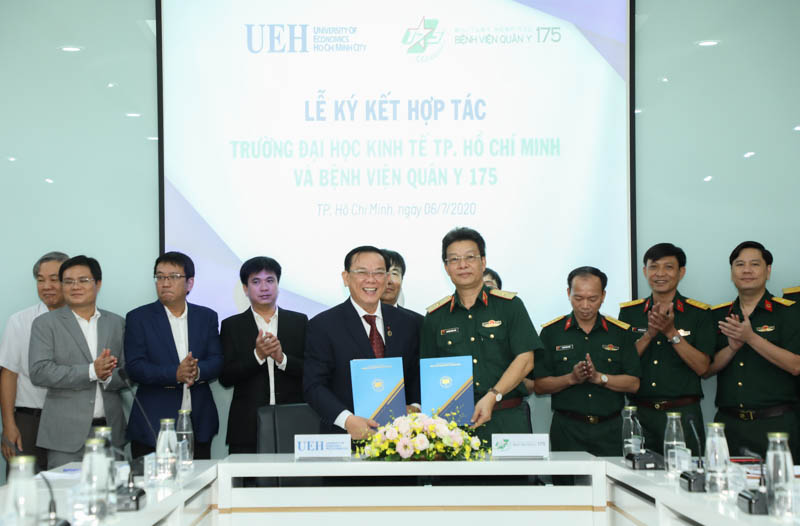 Leaders of both sides signed the cooperation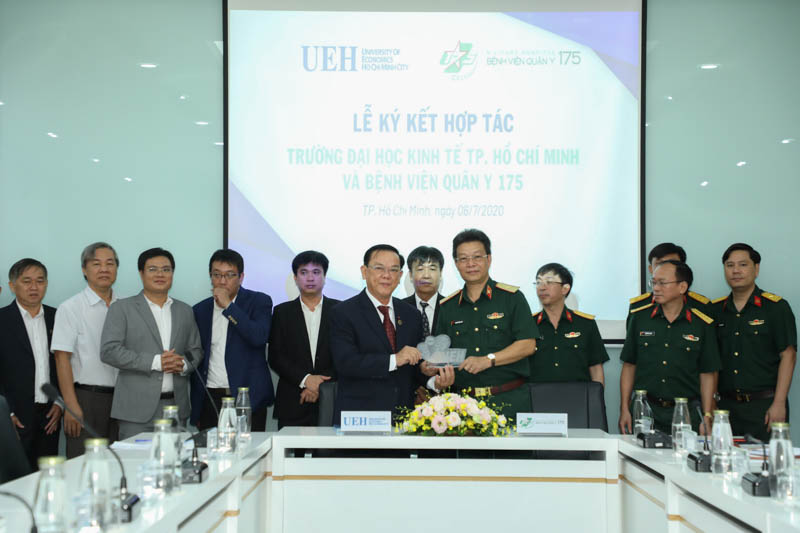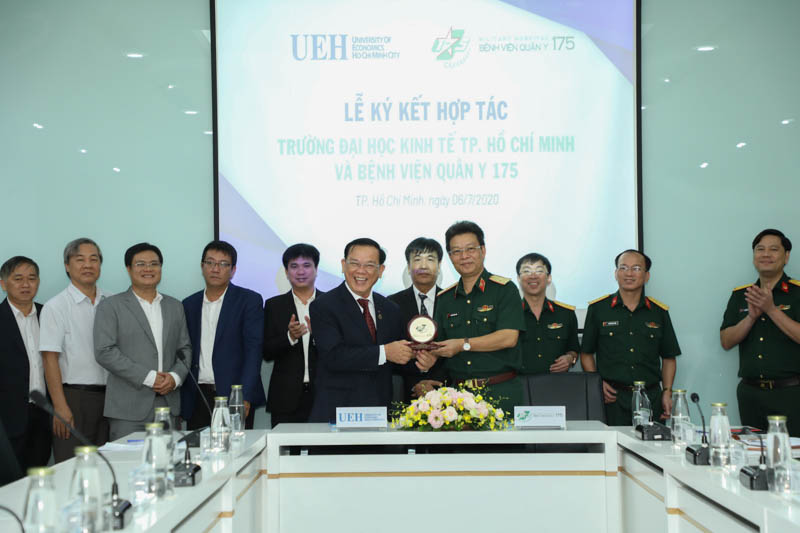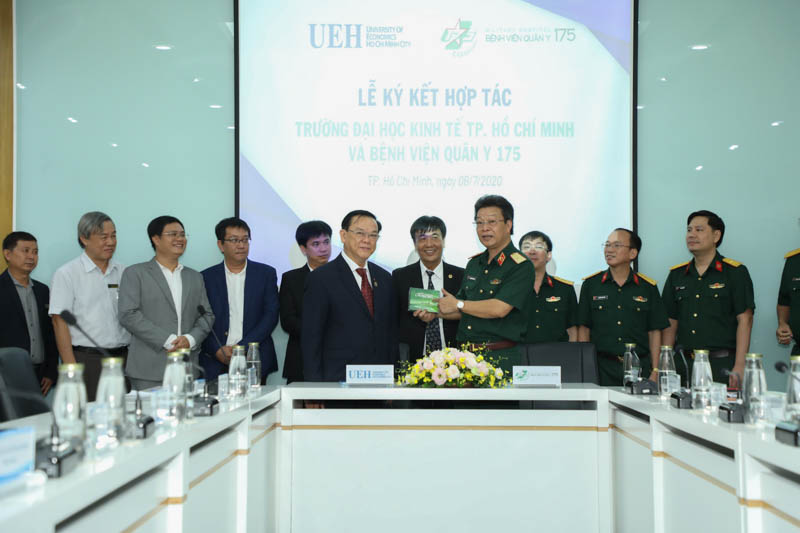 Group Photo
The signing of this cooperation agreement will furthermore strengthen the already stable and long-lasting relationship between UEH and 175 Military Hospital, creating conditions for UEH students to practice and work at the hospital, and at the same time open up opportunities for developing the hospital administration sector in the future and improving the quality of the domestic health sector. Hopefully, the signed contents will be explicitly implemented and achieve expected outcomes in the coming time.
Press coverage:
People's Army Newspaper: 175 Military Hospital (Ministry of Defense) and Ho Chi Minh City University of Economics signed a comprehensive cooperation agreement
The Voice of Ho Chi Minh People: Ho Chi Minh City University of Economics and 175 Military Hospital signed a comprehensive cooperation agreement
The Saigon Times: Cooperation to improve the quality of human resources for health management
News and photos by: Department of Communications and Public Relations,  
Department of Research Administration - International Relations.