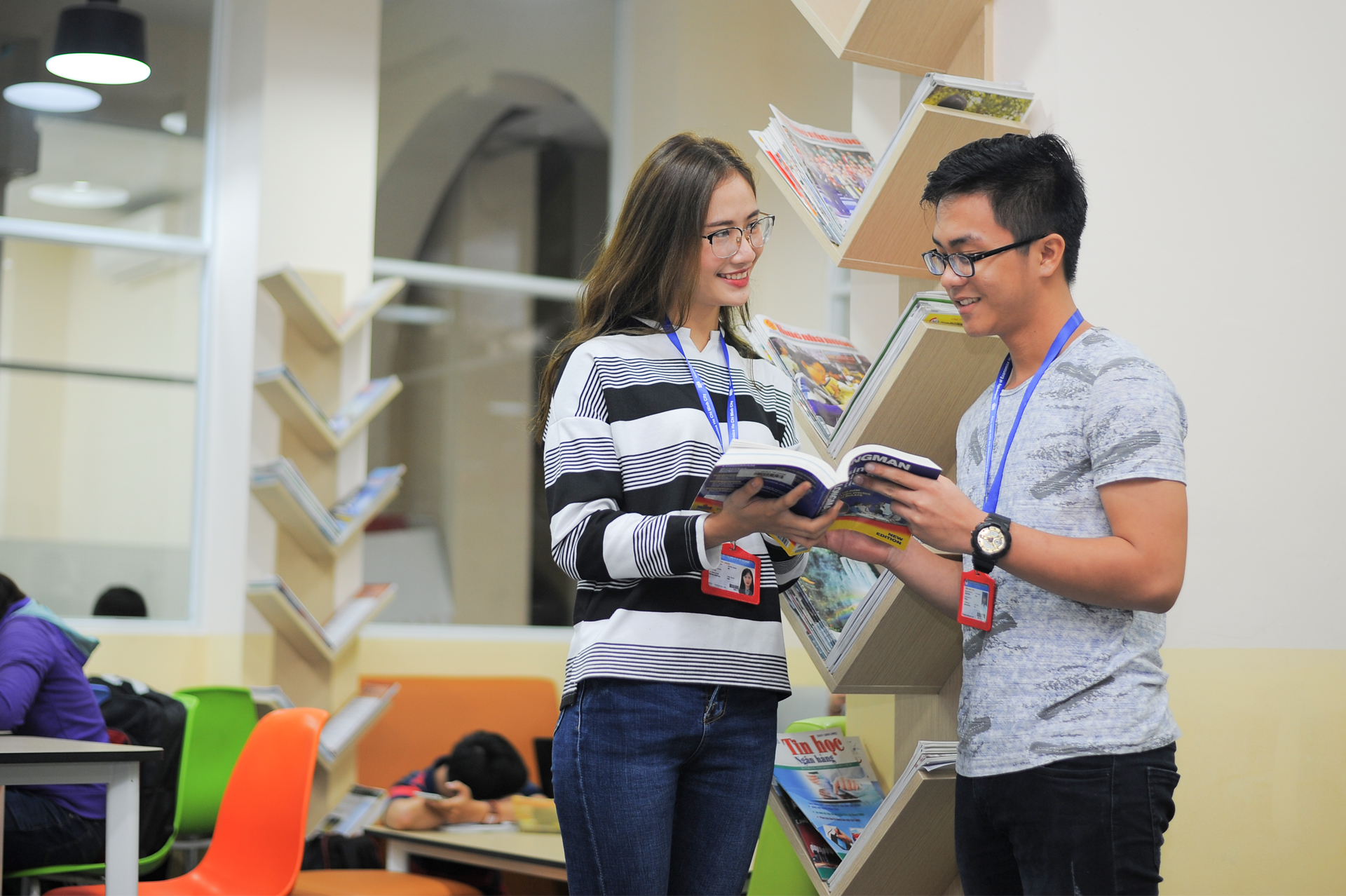 UEH leads the way in international publishing in Vietnam in the field of economics and business
To achieve the goal by 2030 to become one of the leading research universities in the field of economics - management - law in Southeast Asia, University of Economics Ho Chi Minh City (UEH) has continuously promoted scientific research activities with many innovative activities and policies.
UEH's strategy of promoting academic research announced internationally through research funds, updated policies, and UEH has actively implemented innovation. Specifically, from 2018, UEH has simplified the registration process, implemented key research-level scientific research projects for international publication, and applied the policy of pre-acceptance tests. Council for topics with prestigious international publications. The University also encourages "Young researchers," including students, graduate students, and postgraduate students, to publish many research results through sponsorship and awards when there is an article published in the title magazine. ISI, Scopus, ABDC.
UEH also promotes connection and expansion of international research networks; support researchers, lecturers and students of the University have access to the world's leading organizations and researchers through prestigious international conferences such as The 31st Asian Finance Association Annual Meeting; Asia Conference on Business and Economic Studies lần thứ 2; International Conference on Business and Finance; The 1st International Conference on Econometrics and Statistical Methods - Applications in Economics and Finance; The 6th International Conference on Government Performance Management and Leadership. Additionally, the University increases the cost support levels for UEH lecturers, based on scientific research results, to encourage faculty to participate more in international conferences held at home and abroad. UEH has also set up strong research groups based on interdisciplinary and interdisciplinary research topics, and at the same time, linked the internal strength of UEH academic staff with scholars from prestigious universities in the world through the Research Fellowship program.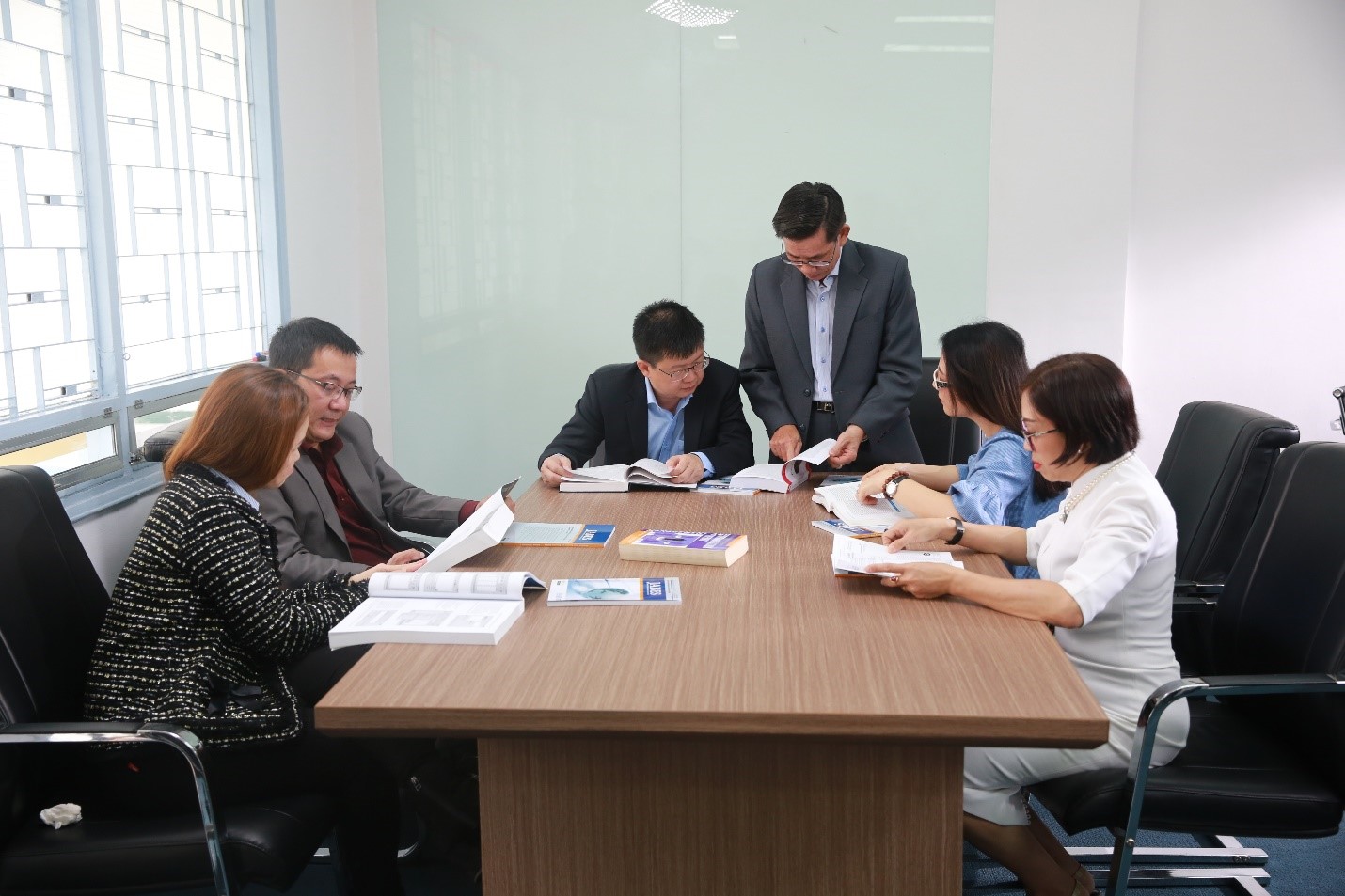 Researchers in UEH's Strong Research Group Room
From the strategy of differentiating with support policies appropriate to the current context, UEH's scientific research activities have made a huge change with encouraging results. Accordingly, scientific publications in prestigious international journals meeting Scopus, ISI, and ABDC standards in recent years have increased rapidly. From 2016 to 2019, UEH had 261 articles published internationally in prestigious journals ISI, Scopus, ABDC.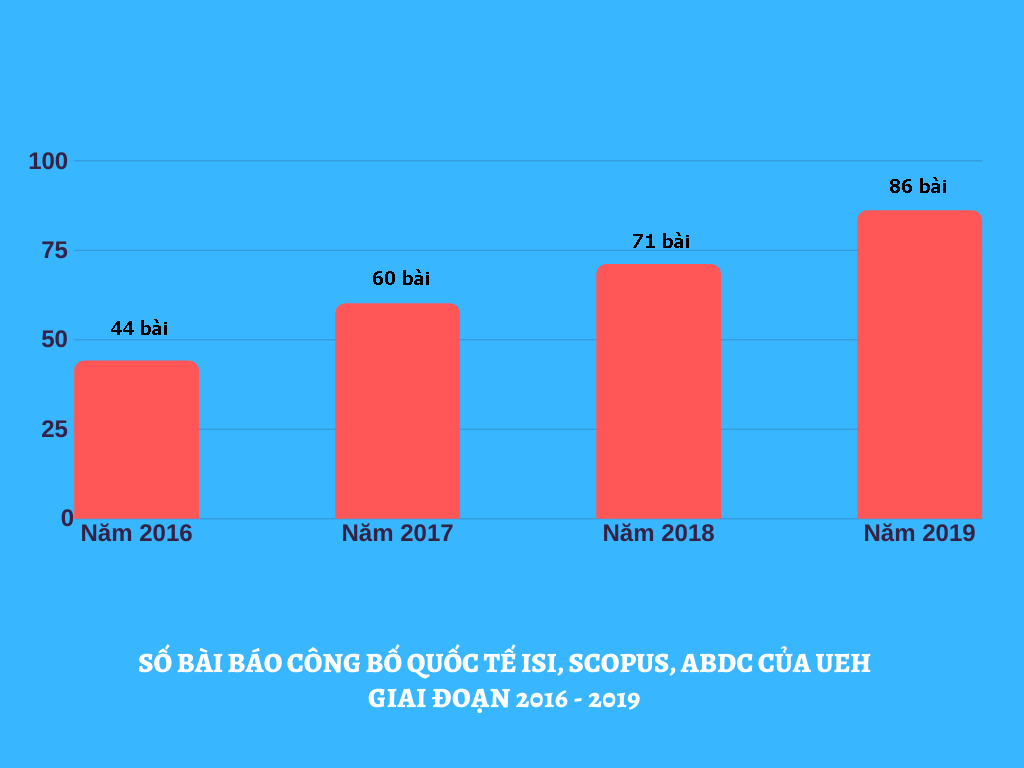 Especially in 2019, UEH has 82 articles published in prestigious international scientific journals in the list of ISI, SCI, SCIE, and rewarded by the Ministry of Education and Training. According to this decision, UEH ranks among the top 10 universities with the highest number of international publications in the country besides multidisciplinary universities and universities of engineering, and pedagogy. Although UEH is a monophyletic university, it has shown great efforts to maintain its leading position in international publications in recent years.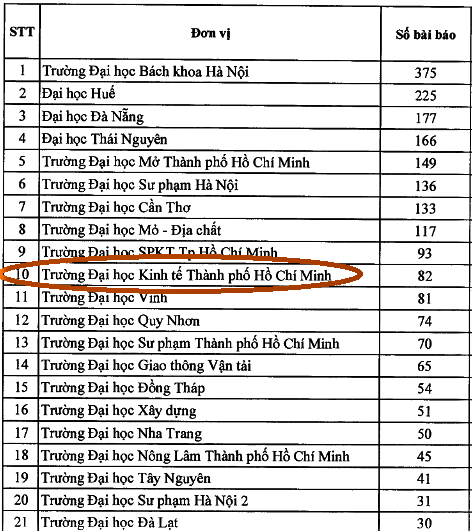 Extracted from the list of rewarding universities with articles published in ISI, SCI and SCIE magazines of the Ministry of Education and Training in 2019
The results of the international publication show that UEH's policy of promoting academic research is in the right direction of internationalization of higher education, focusing on the quality of the published articles, and demonstrating efforts from UEH leaders, researchers, officials, and lecturers.
University of Economics Ho Chi Minh City (UEH) will strengthen academic research internationally, strive to achieve ISI, Scopus Publication to over 100 articles for the following years, and accelerate applied research for socio-economic development. , Business Development. Besides, UEH will build and promote its academic reputation in the domestic and international market with practical solutions (1) to attract good lecturers who are foreigners or overseas Vietnamese, and lecturers come from the industry; (2) encourage teachers to participate in activities such as; join members of the Executive Board of prestigious scientific associations and members of the editorial board of prestigious scientific journals or international conferences as Keynote Speaker, chair and critic; (3) have policies for Ph.D. students to participate in international seminars with presentations, ...
In the near future, UEH is fully capable of further improving the number and quality of international publications to be able to appear on QS Asia University Ranking.
Giao duc thoi dai Press: UEH leads the way in international publishing in Vietnam in the field of economics and business
Sai Gon Giai Phong Press: UEH leads the way in international publication in Vietnam in the field of economics.
Source: Department of Research Administration - International Relations, Department of Communications and Public Relations