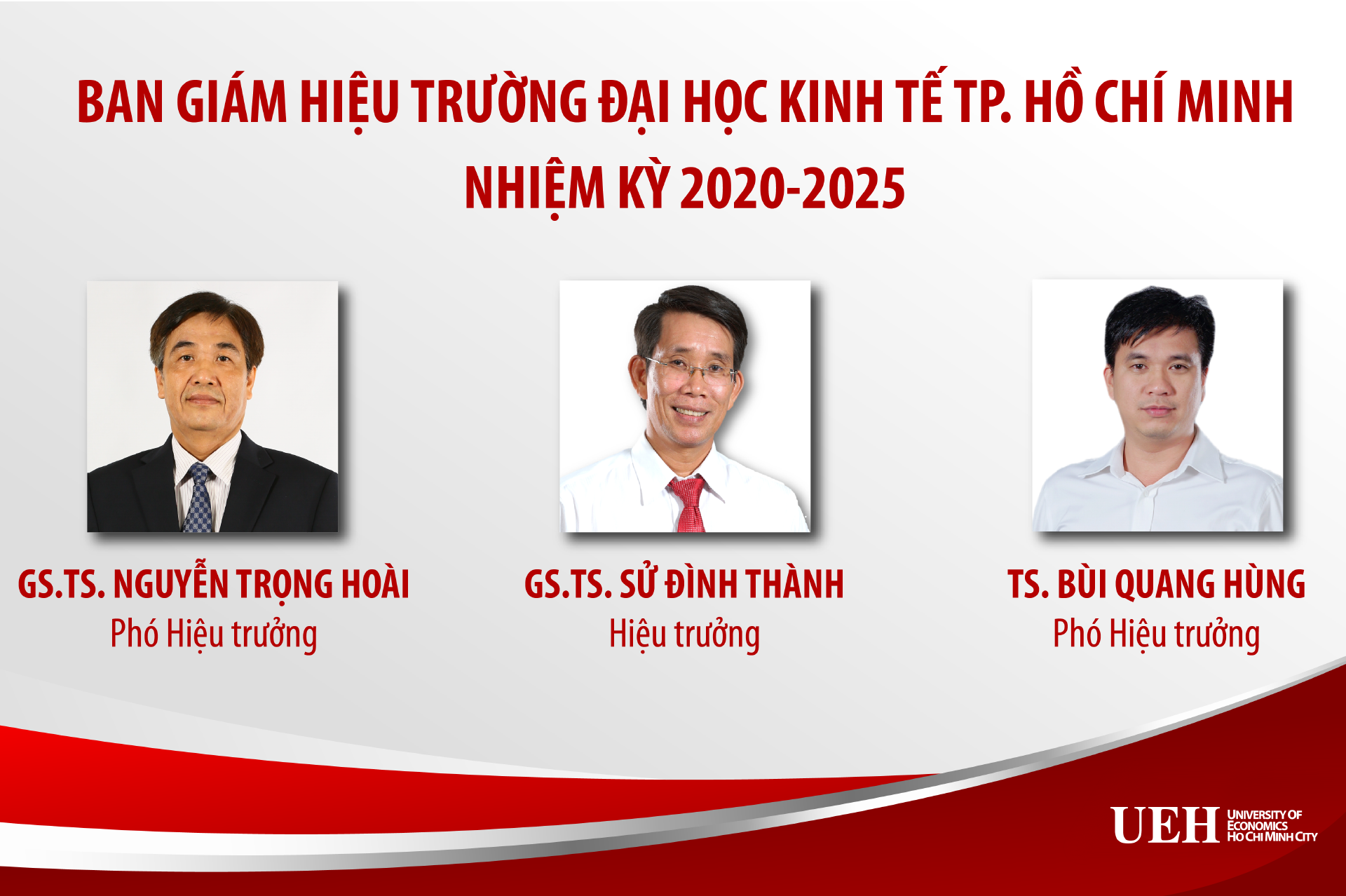 New President and Vice President appointed for University of Economics Ho Chi Minh City for the term 2020 - 2025
Prof.Dr. Su Dinh Thanh is the new President of University of Economics Ho Chi Minh City (UEH). The predecessor, Prof. Dr. Nguyen Dong Phong, is now appointed as the President of the University Council.
Prof.Dr. Su Dinh Thanh was born in 1965, appointed as Associate Professor in 2005, Professor in 2015. He has more than 30 years of experience working at University of Economics HCMC and many years as Dean of the School of Public Finance (2007-2016). Before being a President, Prof. Dr. Su Dinh Thanh was the Editor-in-Chief of Asian Business and Economic Studies Journal of University of Economics Ho Chi Minh City (JABES).
Prof.Dr. Su Dinh Thanh has made substantial contributions to the development of the school, especially promoting international publication, contributing to global knowledge. Under the guidance of Prof.Dr. Su Dinh Thanh, the Journal of Asian Economics and Business Studies (JABES) has made great strides, becoming one of the prestigious journals on management science and economics in Vietnam and is published internationally by Emerald Publishing House.
In his term 2020-2025, the New President aims at turning UEH into a multi-disciplinary, research-oriented university together with member universities and making it into the Top 500 best universities according to QS Asia.
UEH has also implemented the process of electing Vice President in accordance with the Law on Higher Education and the Law amending and supplementing a number of articles of the Higher Education Law. Accordingly, Prof. Dr. Nguyen Trong Hoai continues to hold the position of Vice President until the end of his management employment age and is also assigned to be in charge of undergraduate, postgraduate training and quality accreditation. Prof.Dr. Nguyen Trong Hoai was born in 1961, holds a Master's degree (1997) and a PhD (2002) in Development Economics at the University of Colombo (Sri Lanka). He was appointed Professor in 2015 and is currently a member of the Council of Professors in Economics. He used to be Head of Economics Department (2006-2011) and Vice President from 2011 to present.
Dr. Bui Quang Hung is appointed Vice President in charge of finance, facilities and information technology application in school administration. Dr. Bui Quang Hung was born in 1978, holds a Master of Business Administration from Asian Institute of Technology (AIT) in Thailand (2003), Master of Finance from the European School of Management (ESCP-EAP) in France (2004) and PhD in Accounting from University of Economics Ho Chi Minh City (2019). Before appointed Deputy President, Dr. Bui Quang Hung was a lecturer in Accounting Department, formerly Secretary of the Youth Union (2007-2012), Head of Finance - Accounting Department, Chief Accountant (2011- Feb/ 2020), Head of Human Resources (from Feb/2020), Deputy Secretary of the Party Committee of the School (from June/2020).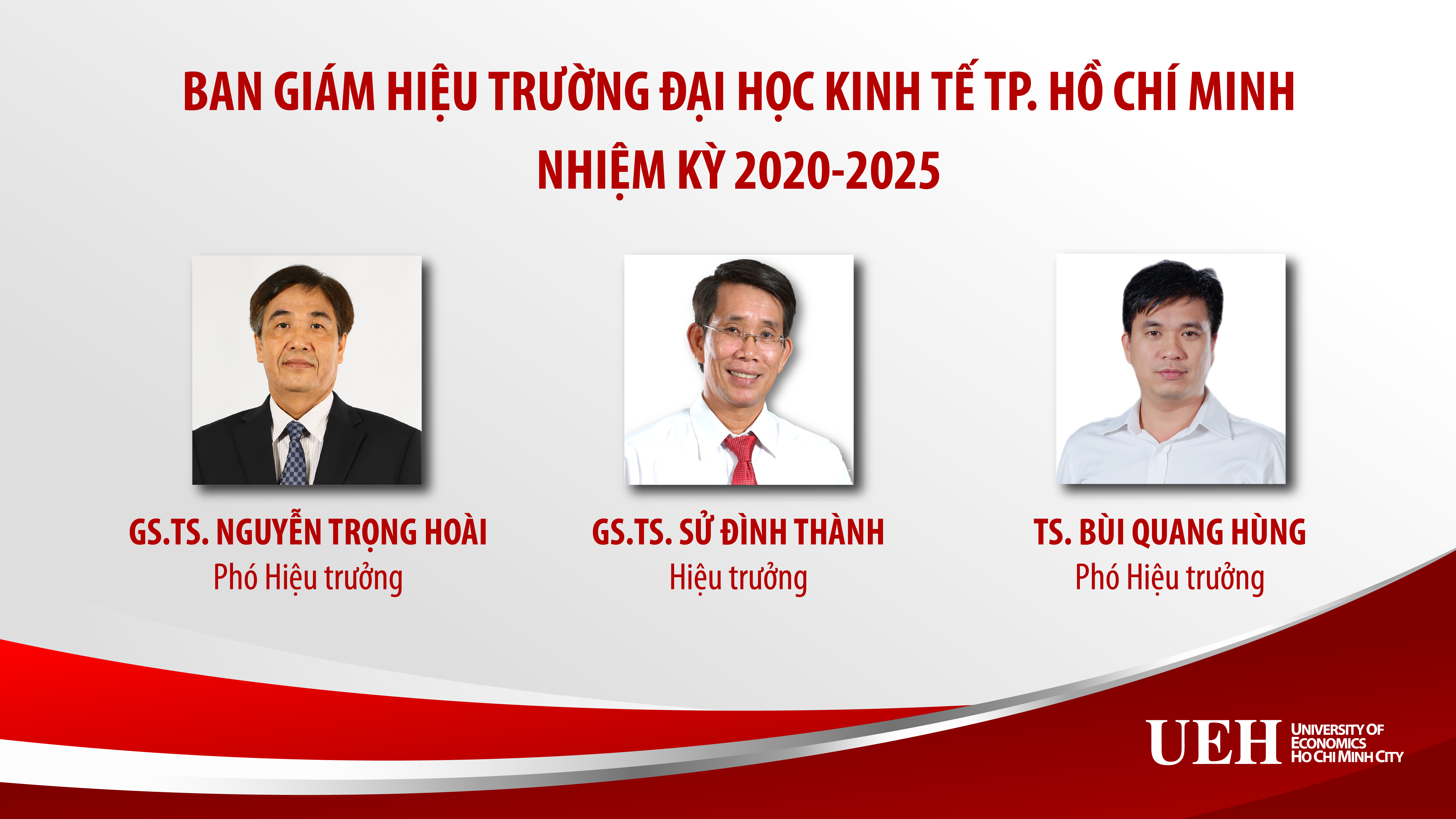 The UEH Board of Management for the new term continues to implement the UEH development strategies of the University Council in the period 2020 - 2025 with 09 key projects including: Restructuring UEH University and multidisciplinary development; quality accreditation and international standards training programs; digital transformation to better serve the management of the school; blended learning (online / offline); improve the quality of the team in terms of expertise, English and increase the proportion of international teachers; mobilizing resources for UEH development; increase exchange of international lecturers and students; enhance the school's academic reputation; promote the model UEH - enterprises, localities and partners in the spirit of win-win.
The recognition ceremony to announce the President and appoint the Vice President of the University of Economics Ho Chi Minh City for the term 2020 - 2025 will be held on the morning of September 28, 2020 at UEH.
University of Economics Ho Chi Minh is currently a leading national university with a high reputation in the fields of economics, management and law in Vietnam. For many consecutive years, UEH has been in the Top 1000 best business schools in the world according to Eduniversal ranking and Top 25 best universities in the world for its "Contribution to lifelong career development" according to U-Multirank rating. Over 44 years of establishment and development, UEH has become a training place for successful economists, managers and entrepreneurs as stated in its motto: UEH - Exceptional quality - Pratice connection - Reaching the world.