"In the digital age, people are better than machines in the ability to lead, connect, and to think critically, etc."
The roundtable had the participation of Mr. Tran Kim Chung - Chairman of C.T Group (Alumni of UEH); Ms. Le Diep Kieu Trang - Chairman of Harrison.ai, Former CEO of Facebook Vietnam; Dr. Dinh Tien Minh - Head of Marketing - Faculty of International Business – Marketing subject UEH; and Mr. Nguyen Khac Nguyen - Director of Human Resource Management Division of ACB (Alumni UEH) - Coordinator of the seminar.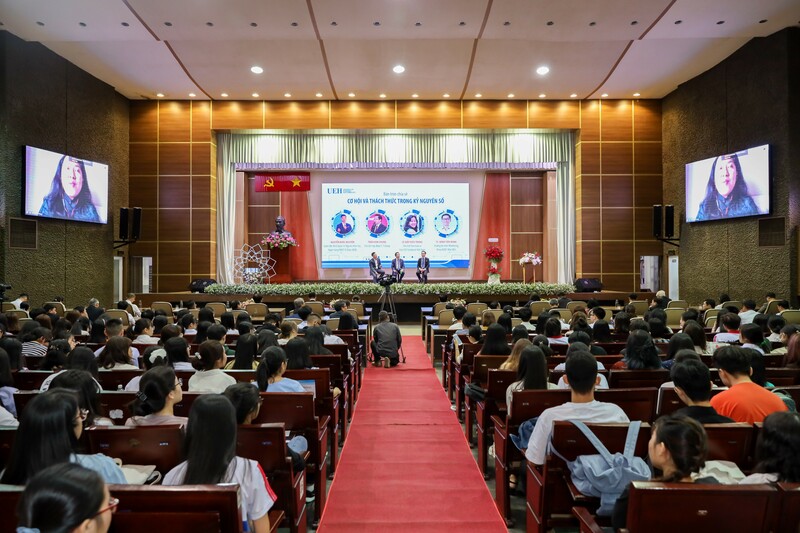 Roundtable: Opportunities and challenges in the digital age
On the first day of school, what should K46 students learn?
Mr. Chung: 33 years ago, in the transition period between the subsidy period and the market economy with many difficulties, that day, I went to SG at night in a coal car and luggage was a small wooden chest. Today, how you come here, I do not know, but maybe we are the same thing, that is the aspiration, desire to access the world's knowledge treasure and the desire to develop.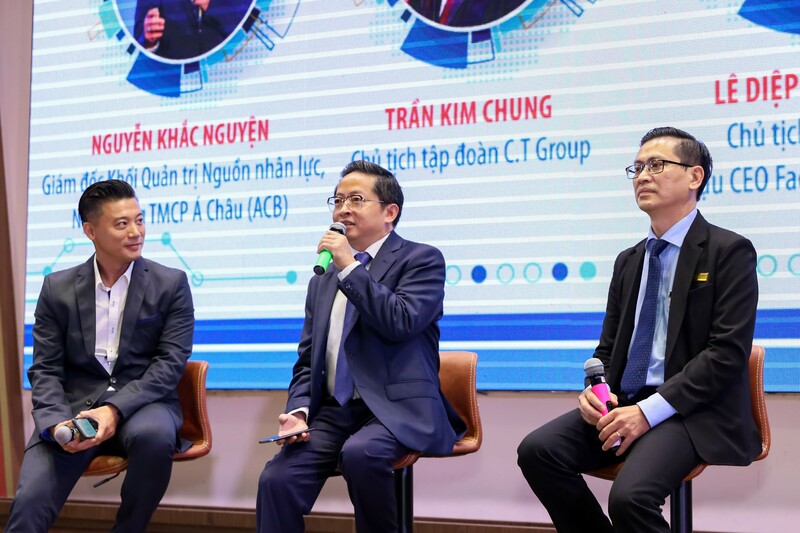 Mr. Tran Kim Chung - Chairman of C.T Group shares
Ms. Trang: I think the most important thing you should learn and the only thing that you bring along your whole life is the way of learning, because no matter what school you study, the knowledge at school is very small compared to what need in life. Looking back on the time I went to school, the most precious thing I bring is the learning method. When I need something, I know how to explore to learn.
Mr. Minh: No matter what major, every student at UEH needs to equip: knowledge, skills and lifelong learning capacity. You need to train yourself from the first few days to have a positive learning attitude: interact with teachers, and learn from your friends.
Where did the digital age originate and how does it affect our Vietnam?
Ms. Trang: To put it simply, the digital era began when the chip technology industry became much more powerful than before, so people began to process Big Data. If in the past a computer system could process a relatively small amount of information, now it has increased a lot. That opens up a chance for people to start using big data - huge amounts of data that can be processed in a very short time. For example, unmanned vehicle using machine vision.
The digital age is an era where machines process faster and more accurately than the human brain, and a lot of the previous human work has been replaced by artificial intelligence. People must reposition themselves in this digital age. The new trend also connects people with people by digital technology in no time.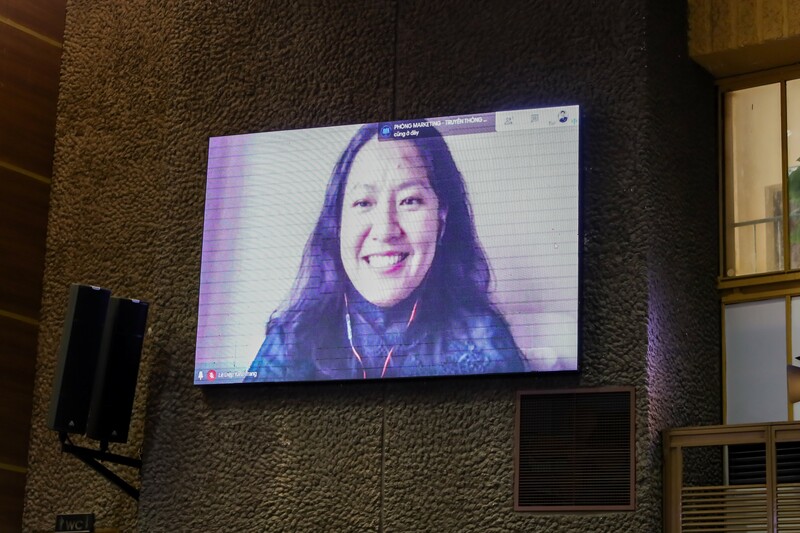 Ms. Le Diep Kieu Trang - Chairman of Harrison.ai, Former CEO of Facebook Vietnam shares
In the digital age, what challenges do students face?
Mr. Chung: You are witnessing a dramatic change in science and technology, you are also witnessing a tremendous change in artificial intelligence, a few hours of learning machine can beat the world grandmaster of chess. AI goes further into monopolistic human realms, like human emotions, and AI-powered symphony orchestras also make people mistakenly assume that orchestras are played by famous musicians. AI goes further and faster into all areas of life, accelerating science and technology.
You also witness the connection of things between machines and machines, machines that can command each other, unmanned vehicles. Your generation will no longer ride on bicycles, but will travel by private aircraft, changes in cellular technology, genes, creating new human strains, cosmic secrets: black holes, etc.
All are opportunities and also challenges because competitors are not only friends from many other places, regions and countries, but also technology products, robots and AI with superior abilities. So what have you prepared to enter this era?
Ms. Trang: I think first of all, you should focus on mastering the numerical subjects. I was surprised when I recruited for many years, Vietnamese students were very good at math in high school, but when they entered the university level and when they went to the labor market, Vietnamese were quite weak in math subjects, especially economics students. Those of you studying Economics who are unsure of numbers will not keep up in this era. Especially the ability to use big data processing software, database management, the ability to predict numerical trends and question what's happening and use numbers to prove it.
The second very important thing in this era is critical thinking. The question is not about what kind of future world you think about, but how you think you will use technology. In the digital age, people more than machines are in leadership, connection, ability to move human emotions and critical thinking. In short, during college, students need to pay attention to numerical subjects (logical thinking, data processing ability and judgment), critical thinking and leadership ability, connecting emotionally, etc.
What has UEH prepared for students in the digital age?
Teacher Minh: Regarding the learning method, when the students go to school, the way of learning changes much compared to the past, which can be called digital transformation. The school has applied a lot of information technology, online learning application LMS. During the Covid era, there were many functions for distance learning and the implementation of online learning through google, through the Microsoft team, google meet, equipped with a lot of technology equipment in the classroom.
About knowledge: Each student is equipped with specialized knowledge with digital transformation trends. For example, in Marketing, students are studying Digital Marketing, IT application, AI processing big data in Digital Marketing subject. Connecting with businesses to shorten the gap between theory - practice.
Academic capacity: Your academic capacity shows that you are a global citizen, able to use digital devices. At least to have knowledge of informatics in general, the school also includes informatics into the output standards with IC3 degree and internet knowledge, etc.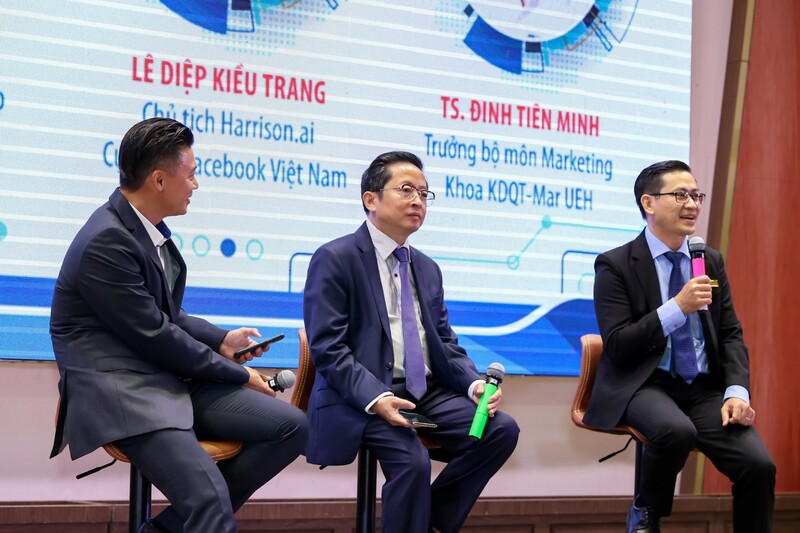 Dr. Dinh Tien Minh - Head of Marketing - Faculty of International Business - Marketing UEH shares
Student K46: In my opinion, a student in engineering, IT has an advantage in this era over business students. According to you, what knowledge do business learners need to equip themselves to compete with their peers in engineering, IT?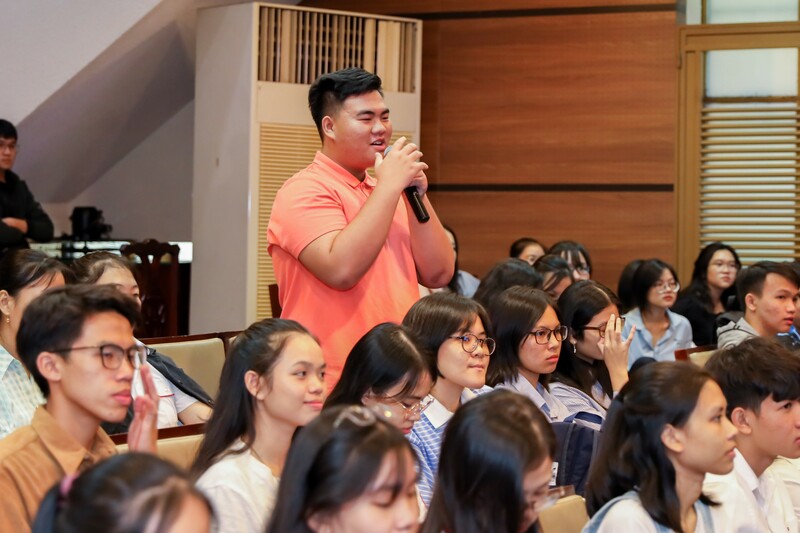 Students ask questions for the guests
Ms. Trang: In a new industry or field, it will not include any major or sector. The technology market is very wide not only of engineers, but also people who make products, commercialize, or financial and accounting positions. Seeing the world of technology with only engineers is not entirely accurate. The most important thing when you enter the world of technology when you are not an engineer, in my opinion, the most important thing is not to be afraid. In a constantly changing industry, it is important not to limit yourself, to be eager to learn, to keep yourself courageous and humble to learn more of the unknown.
Student K46: I am an entrepreneur and an introvert, in the era of integration 4.0, the developing digital world today, sometimes I feel quite pressured to access large amounts of information: pages, groups on facebook. About that problem, what method of skill equipment do we need?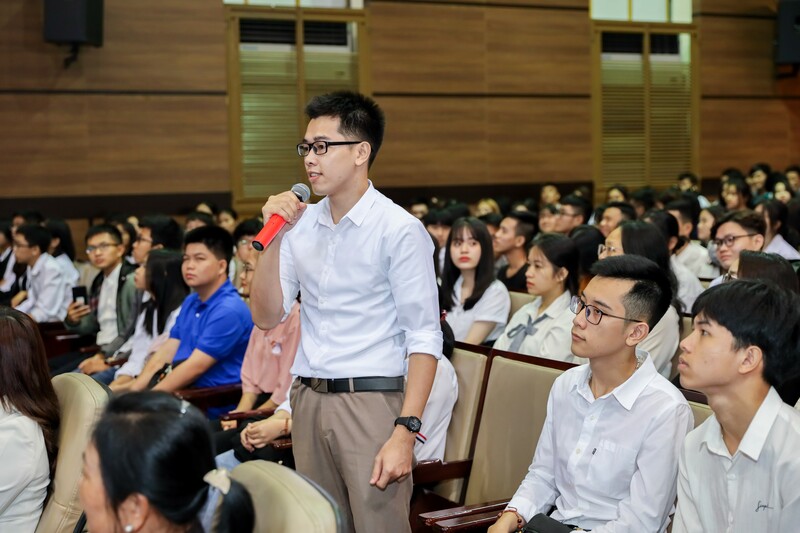 Students ask the guests questions
Mr. Chung: The first thing is to build up the right learning strategy, so take the time to build a study strategy for each year or over four years. You need to define goals so that you do not fall into the unimportant information. In the digital age, each teacher is also a university in a big university, each student has a school in a big school, you design your own curriculum. In order for you to get to your desired destination, you need to consult a predecessor or a friend. You need to define the philosophy: Not only the owner of the country's future, but also shape the future of the country. You must dare to think far, dare to do deep.
Teacher Minh: In the current information forest, you need to have skills to read news, etc.
What standards or role model for digital age students?
Teacher Minh: There is no common model for all of you, but I think the common feature in the digital age is the knowledge of information technology. All businesses that do not apply information technology may be going backwards. No matter what industry we are in, all of us cannot ignore our knowledge of information technology because it is a world trend.
Message for the students K46 - UEH?
Ms. Trang: In order to study well and play well, to do many things, you need to be very focused when doing something. I wish students enjoy a rich journey, do many things, enjoy the time when your youth do their best to study, have fun, explore the world, become the best version of themselves in the years in university.
Mr. Chung: I hope that all students will not only study but also practice and be very disciplined to succeed.
Teacher Minh: Skills if not practice will gradually diminish, practice from the smallest, time and persevere with what you arrange.
Mr. Nguyen: As a student in the digital age, the modern machine age, you should not try to become a machine, be a real person, be happy, know how to play, know well. It is important to choose your values for learning and to coordinate well with friends, colleagues and machines. What matters is the destination, but better it is the process. Enjoy the 4-year student life so that after graduating you can tell about this journey inspiring and proud.=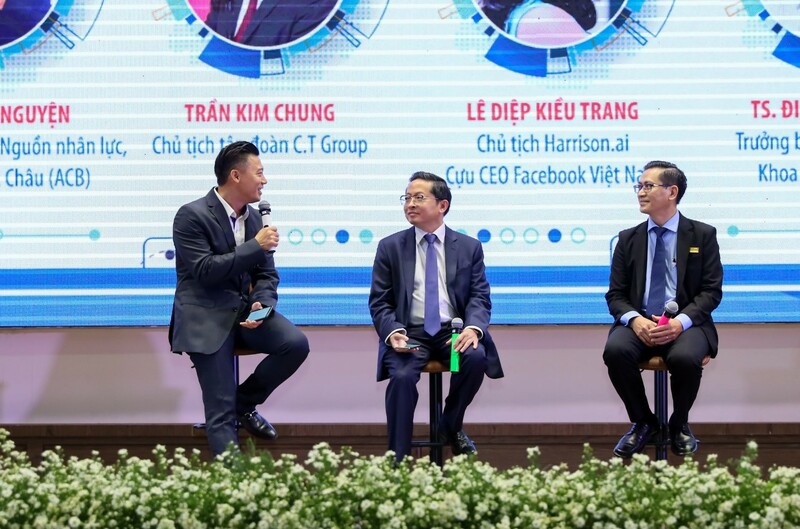 Mr. Nguyen Khac Nguyen - Director of Human Resource Management Division of ACB coordinates the seminar
In addition, at the opening ceremony, the students also heard valuable sharing from Alumni about the value of each person that is sustainable over time regardless of the era, such as "For me, in any era, it is like that, number or zero, 4.0 or 0.4, the values belong to the core of a human being, of a young person to me: First, it is openness. Be open, open to learning new things, learning new things again every day, from different people. Second, there must be perseverance to work every day to achieve the best possible results.", Ms. Huynh Thi Xuan Lien - Member of the Board of Directors of Phu Nhuan Jewelry Joint Stock Company (PNJ) (Former Student UEH member course 21) shared.
The roundtable and the sharing of UEH alumni have aroused strong inspiration and motivation for UEH students to actively self-study, explore, rise to grasp digital technology, be a future global citizen.
News, photos: Marketing - Communications Department.