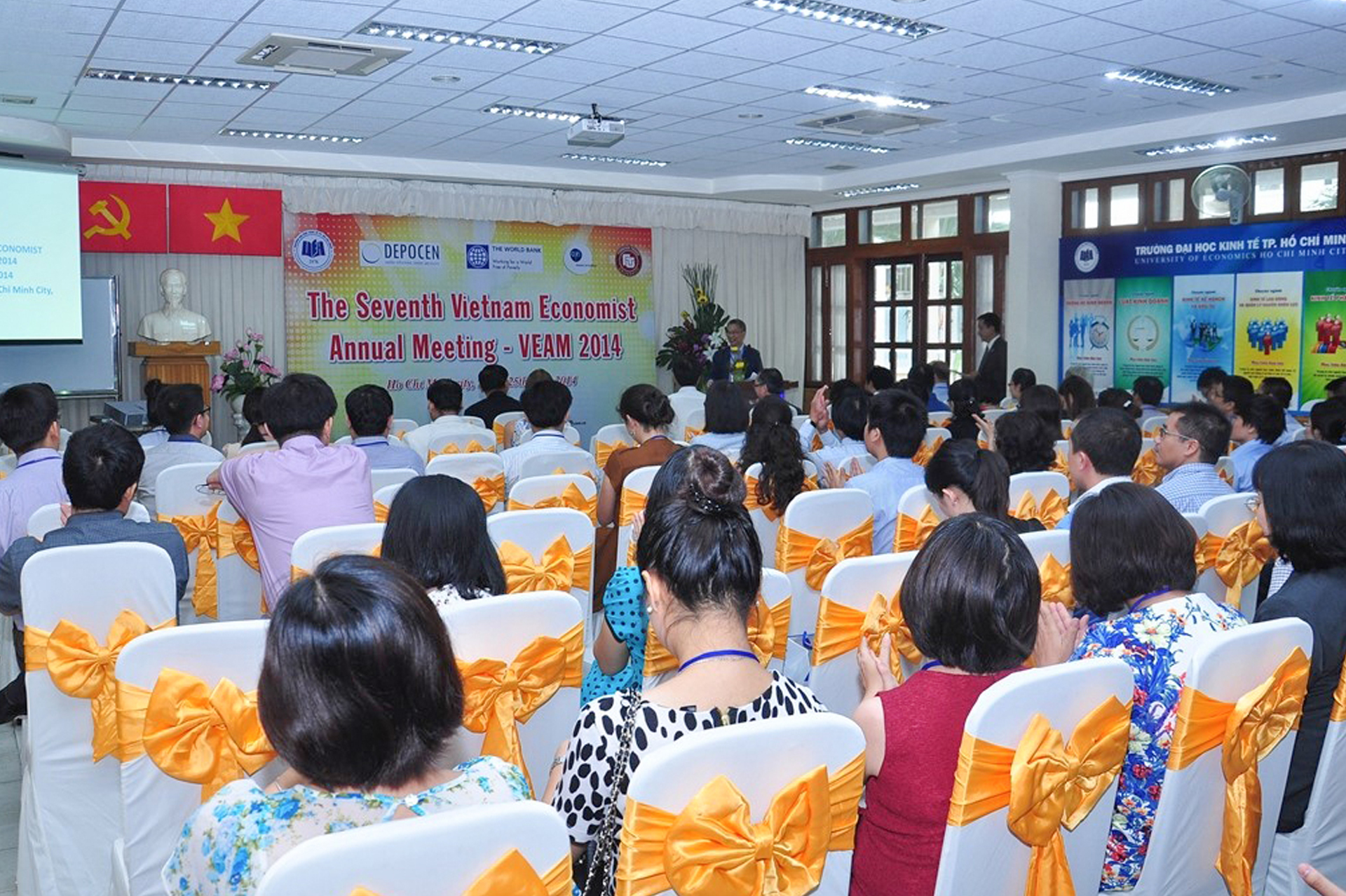 VEAM 2014 and VDEC 2014 Congresses
The Seventh Vietnam Economist Annual Meeting – VEAM 2014
The Vietnam Economist Annual Meeting (VEAM) is annual meeting organized for domestic and international economists and other social researchers to present their studies and works. This year, the event was hosted by the UEH, and co-organized by the Development and Policies Research Center (DEPOCEN), the French National Center for Scientific Research (CNRS), the Foreign Trade University (FTU), and the World Bank (WB). The VEAM 2014 took place on 23rd June and 24th June 2014 in Ho Chi Minh City, Vietnam.
Prof. Nguyen Dong Phong, President of the UEH has delivered his welcome remarks. The five keynote speakers for VEAM 2014 were; (1) Prof. Nguyen Trong Hoai, Vice President of the UEH; (2) Prof. Takashi Kamihigashi, Kobe University, Japan; (3) Prof. Binh Nam Tran,  New South Wales University, Australia; (4) Dr. Hinh T. Dinh, World Bank, United States; (5) Prof. Yiannis Vailakis, Glasgow University, the United Kingdom.
VEAM provided an opportunity to initiate a worldwide network of Vietnamese economists and other social scientists, to expand and to consolidate cooperation in scientific researches. It was an opportunity for Vietnamese universities, economics and management schools, governmental agencies and companies to exchange experience, share economic and management researches of Vietnamese scholar community all over the world. The meeting included a variety of other activities, including informal discussions, presentations by leading international economists, and honor audience.
In addition, the Vietnam Economist Annual Meeting 2014, the World Bank together with the UEH and Development and Policies Research Center (DEPOCEN) organized the Vietnam Development Economic Conference 2014 (VDEC 2014) as a special addition to this year VEAM. The conference was held on 26th June 2014, in coordination with the 7th annual Vietnam Economist Annual Meeting (VEAM) at the same location. VDEC had a select number of invited presentations by prominent researchers on development issues in Vietnam. There were presentations with discussants, plus keynote and plenary speakers who are from the World Bank, University of Copenhagen, University of Oxford, University of Hohenheim, University of Toronto, and Indiana University.
Furthermore, the World Bank together with other VEAM host organizations organized a mini-course on Impact Evaluation in Development (IE training). The course took place on 27th June at the same location. The one-day course was aimed at researchers and practitioners. It covered the role and methods used in a rigorous impact evaluation. Gabriel Demombynes (Senior Economist, World Bank) and Quy-Toan Do (Senior Economist, World Bank) led the course.
 During 4 days of the seminars, all participants of VEAM and/or VDEC have shared experiences on research methodology and practical knowledge that met on a growing demand for rigorous economics and discussed future possibilities for the next seminars in 2015. The 8th VEAM will be organized in Thai Nguyen University in June 2015.